As the Father has loved me, so have I loved you. Now remain in my love. If you keep my commands, you will remain in my love, just as I have kept my Father's commands and remain in his love. I have told you this so that my joy may be in you and that your joy may be complete.
John 15:9–11 (NIV)
We may want wisdom. We might genuinely want to obey God because we love Him. But what happens when His direction seems to go against the logic and trusted advice of our community? What should we do when there seems to be more than one right answer or multiple paths we could take? What about the times when we obey but life doesn't work out the way we thought it would? What if obedience means giving up everything?
The Spirit will lead us to truth, and wisdom is obeying even if. Even if it doesn't make logical sense. Even if it looks like foolishness to others. Even if God is the only one who keeps confirming the same thing over and over again. Will you take steps to say yes to God, to trust Him, even if?
When I was in pastoral ministry, I had no dreams or plans to leave my job. I felt called to the church where I worked. I was happy to be serving people I cared for and content living in a city I had fallen in love with. I was fully committed to the work God was doing there and was ready to settle down, raise my family, and live the rest of my life right where I was.
But about six years into it, God began to close that chapter — both my time in ministry and our life as we knew it. He was redirecting us back home. I sat with this quietly for a year, unsure of what to make of it and with no concrete plans of what we were supposed to do next. It not only seemed like foolishness, but it felt backwards. We were moving in with my in-laws to live in the home my husband grew up in.
But God brought up the same messages of home and family again and again through that year of seeking wisdom. And even though our ducks weren't in a row before we moved, we knew in our gut that the timing was right, that God would be with us, and that He would show us each next step.
It's been five years now, and though I'm not any clearer on a five-year plan, I've come to the point where I don't need one anymore. God has again proven Himself trustworthy as always — through deep pits of depression, through painful moments in our marriage, and through the confusion of career changes for me and my husband.
Each yes has led to the next yes, and God's wisdom, God's Spirit, has been faithful to guide us in every "even if" and "even when."
And now I understand what John 15:11 means: God's joy has been in me, and my joy is full, complete — even if, even when.
What is something God is inviting you into that you need to obey?
LORD, help me reframe my idea of obedience from one of dread and doom to one of love and joy. Thank You for the guarantee that Your Spirit will lead me to truth and to wisdom. Even when I can't see its worth, help me choose wisdom. Even if I look foolish to others, help me take steps toward saying yes to You. I want to experience the joy of obedience as I learn to become wise. Meet me where I am, God, and take me where You want me to be. Amen.


We all want and need wisdom, but how do we get it?
Meet Create in Me a Heart of Wisdom, the new (in)courage Bible study from DaySpring, written by Grace P. Cho and featuring stories from your favorite (in)courage writers.
When we're in a relationship with a toxic person and need boundaries, when our churches are divided by theological differences, when we don't know how to navigate unexpected difficulties, knowing what the right, good, or wise thing to do is difficult. So where do we begin?
If you've ever asked yourself these questions, this is the next study for you.
Create in Me a Heart of Wisdom teaches that wisdom is learned by understanding knowledge, listening to the Holy Spirit, experiencing struggle, being in community, and practicing what we learn over a lifetime. It won't offer solutions to specific problems, but it will offer spiritual insight and practical guided questions throughout the study to help you seek God and gain the wisdom you need.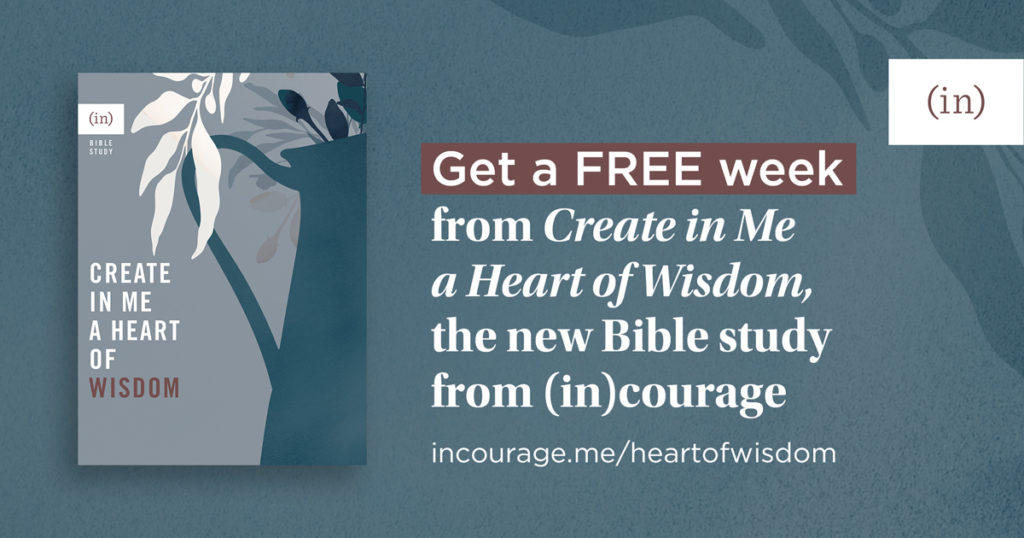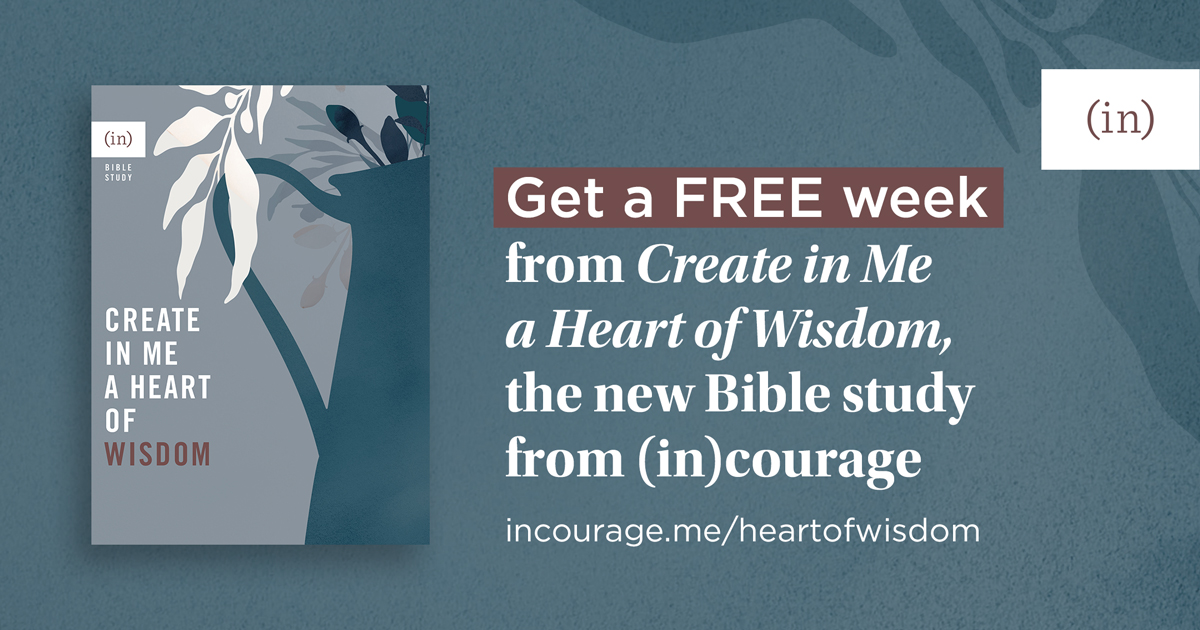 Our prayer is that this study will encourage you to seek the Lord and the wisdom He offers each one of us. Create in Me a Heart of Wisdom releases at the end of January, and we are SO excited to see how God will use it to speak to your heart. Sign up below to get a FREE full week of Bible study from Create in Me a Heart of Wisdom, and order your copy today!
Join the online study and let's seek hearts of wisdom — together.
Listen to today's article below or wherever you stream podcasts!
Leave a Comment