The (in)courage you know and love — the virtual living room where we pile together on the couch, lounge in comfy chairs, sprawl out on the floor, and create a comfy circle of sisters who are always ready to shift and smoosh together to make space for more — is now a podcast! We're always better when we make time to sit around our "living room" together. . . and now we do that via podcast! New episodes drop on Thursdays; subscribe today so you don't miss a minute. Listen below and also find the (in)courage podcast wherever you listen to podcasts.
Current Season: Courageous Kindness
(in)courage and DaySpring team members Anna and Joy are talking their way through the Courageous Kindness Bible study. Each week, you'll hear their stories and conversations, along with an excerpt of the Bible study read by author Becky Keife. Also, every episode features a clip from the companion Bible Study videos! These videos feature (in)courage writers Lucretia Berry and Grace P. Cho alongside Becky, and they offer us a seat beside them in the living room as they go through Courageous Kindness together.
Listen to the weekly episodes and also join the discussion in our Monday online study! Yep, we're going through Courageous Kindness both on the podcast AND as an online community, and you're invited to both. We hope you'll join us!
Click here to get your copy of Courageous Kindness at DaySpring.com — use code PODCAST25 at checkout to save 25% + get free shipping!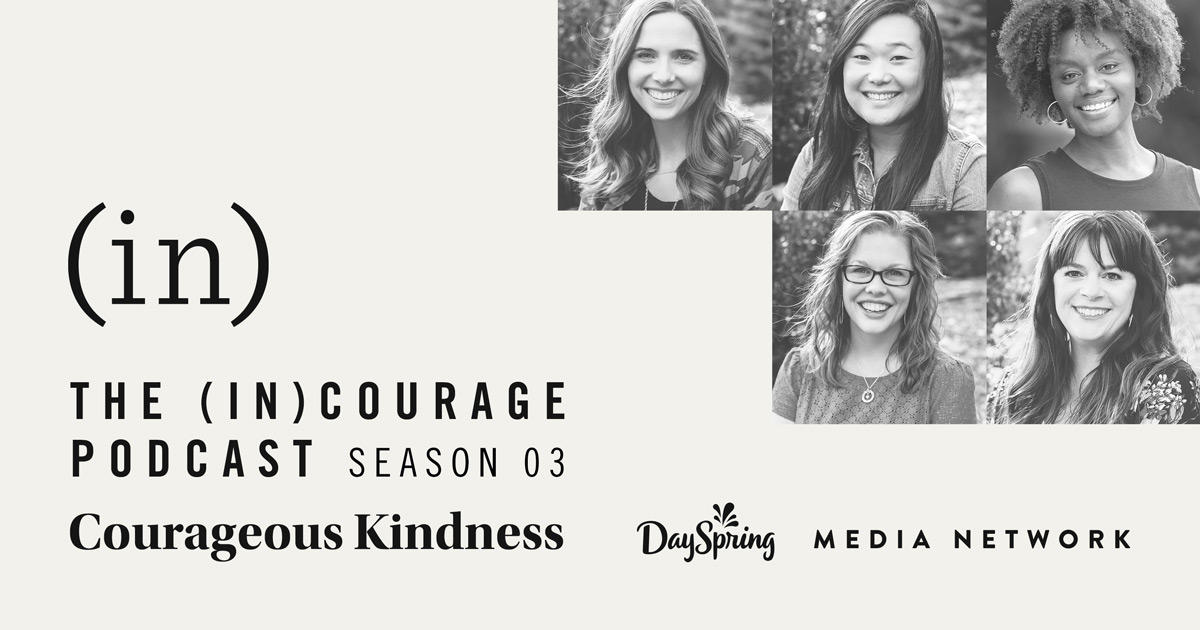 Past Seasons
Season Two brought (in)courage and DaySpring team members Joy Groblebe and Anna Rendell as they talked and laughed their way through the Courageous Influence Bible Study. Each episode also featured a story from Courageous Influence read by an (in)courage contributor, and clips from the Courageous Influence discussion videos with Becky Keife, Kathi Lipp, and study author Grace P. Cho. Learn more about the Courageous Influence Bible Study! Also, visit dayspring.com and use code PODCAST25 at checkout to save 25% + get free shipping on a copy of Courageous Influence!
Season One of the (in)courage Podcast was all about what it means to live with Courageous Joy. Because who doesn't need more joy in their life? Hosted by Becky Keife and Mary Carver, they brought funny and vulnerable conversations as they discussed their way through our Courageous Joy Bible Study. They were joined by friends along the way who shared their honest stories of what joy looks like in their lives. Written by Mary and featuring stories from other (in)courage writers, the Courageous Joy Bible Study looks at what God says about real joy — even when life gets hard.