"And all things you ask in prayer, believing, you will receive."
Matthew 21:22 AMP
"Puffins! Puffins! Look, puffins!" his voice rang out, catching all of our attention. His small frame, not more than ten years old, jumped up and down as he shrieked, "Puffins, Dad! Do you see the puffins?" His dad just smiled, almost apologetically to the rest of us, at his son's very loud and obvious enthusiasm. I turned to my husband.
"Do you know what a puffin is?" I asked. He shrugged. "Neither do I," I said. "But I have a feeling they're amazing!" He laughed.
By the time our boat reached The Region of the Great Puffins, you can bet all of us on board wanted to see these incredibly famous creatures. And they didn't disappoint. Puffins are precious. Their miniature bodies resemble tiny toucans. Some swam. Others dove down into the water. Some sat majestically perched nearby. There were thousands of them. And, as you might imagine, the young boy's enthusiasm spread among us with each adorable puffin we saw. We had gone there to see the glaciers, but the puffins stole the show.
I'll never look at a puffin the same way again. In fact, when my husband, Jack, and I hit a lull during a walk or adventure, one of us often shouts, "Puffins! Puffins!" We immediately laugh. It's a reminder that joy is a choice. You can be excited about whatever you want. Could be a puffin. Could be a dog. Could be a perfectly made cappuccino. Could be a sunset. Or a shiny geode. There are countless things to delight you if you will just see them through the eyes of a child. Innocent wonder returns you to a place of presence. It frees you from the pains of your past and your fears of what's to come. Noticing the abundance of the beauty in God's creation transforms your life into a walking miracle.
I used to live in Africa as a missionary. We didn't have much money for gifts during that time. So, when it came to my birthday, I decided to ask for a giraffe. Driving home from an errand, I asked God to let me see a giraffe in the wild. When I told my family, they actually laughed. It wasn't common to see giraffes. But in my heart, I had a feeling I would. In fact, God let me see more than one giraffe that day. He gave me three.
You get what you ask for in this life. So, ask! You get what delights you. Don't be shy. Take joy in what's around you. It could be the puffins. It could be a giraffe. Whatever it is, don't hold back. Ask. Find the courage to ask for the life you want to have.
Jesus, increase my faith for the things that I ask. Amen.
—
This is an excerpt from the new book, It's All Good: 90 Devotions to Embrace Your Now, written by Heather Hair. This book will guide you to a place of restoration and peace, and you'll learn how to simply be with God through the Scripture selections, devotions, and prayers.
If you feel stuck in life, you're not alone.
It's so easy for us to get trapped in the pain of our past, allowing it to hurt us day after day after day. On the opposite end, our "bucket list" can leave us feeling "bucket lost" when we pursue, pursue, pursue until we realize we've lost touch with the present.
In It's All Good: 90 Devotions to Embrace Your Now, Heather Hair helps us discover that no matter where our feet are planted, God is always present, working out His beautiful plan for us today and always. You'll find that God is an all-powerful healer who longs to release you from your pains and past hurts. He longs to release you from your daily struggle and relentless pursuit of your future. The good news is that God's love can overcome our fears and flaws, and healing is possible. After all, learning how to simply be with God — to actually be still, stand in awe, and do nothing in particular — can transform our minds, help our bodies rest, and give us the peace we're desperate for.
We know you'll simply love this book! Order your copy today . . . and leave a comment below for a chance to WIN one of 5 copies*!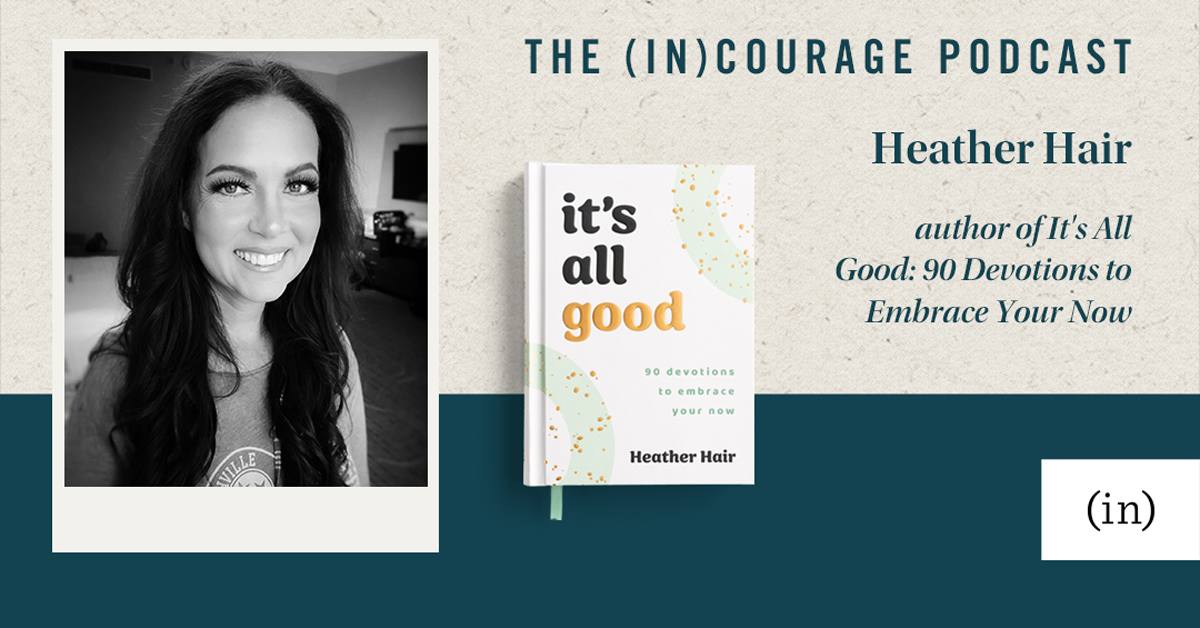 Then join Becky Keife this weekend on the (in)courage podcast for a conversation with Heather. Don't miss it!
Listen to today's article at the player below or wherever you stream podcasts.
Leave a Comment