Well, I am turning right onto I-77, the interstate road that will take me over the lake, and I like the way the water sparkles — like a mirror, always reflecting the light of the good sun. 
I am listening to the radio but, really, I am not listening at all . . . because I am listening to the one thousand voices in my head going on and on about all the things that overwhelm me. The emails left unchecked and the texts unanswered. I think about the pills I forgot to take and the muscles I failed to stretch. Then, every trivial matter spirals into the deepest despair as I think about the body I cannot fix and the people I've let down. There are the decisions I need to make about the kids and the guilt that comes uninvited. 
There's my marriage, my family, and trying to shoulder the weight of the world through the mere hours of work I clock in each week. I glance at the time. It's only four o'clock, but I feel as tired and burdened as last-minute prayers at bedtime. At this moment, not a minute later, I need the kind of grace that can't wait until kingdom come, can hardly wait until morning. 
I need the fresh reminder of God's mercy right now; I need the reminder that His love knows no bounds. Long gone are my teenage years, that raging age when I'd cry myself to sleep, unsure of God's love and overwhelmed with the weight of life. Desperate to believe that God's love was really for me, I'd cry my heart out just before sleep, only to wake up puffy-eyed and hoping the newness that I felt from waking to a new day was really God's way of waking me to new mercies. 
But, right here in the car, I think I've realized something that teenage me never did. Right here in my car with nothing mystical or magnificent happening — not even the circuit of the sun setting and rising that I rely on to fix the gaping need in my soul — I feel God and His presence and the promise of His steadfast mercy. 
But this I call to mind, and therefore I have hope: The steadfast love of the Lord never ceases; his mercies never come to an end; they are new every morning; great is your faithfulness. "The Lord is my portion," says my soul, "therefore I will hope in him."
Lamentations 3:21-24 
This is the passage of Scripture that carried me through my weary, teenage nights. The passage that got me through the anger and bitterness of my soul through my high school years — the actual affliction, the sense of wandering and lostness. I remember how these words held me with hope, how they traced truth, making hope glow like a light in the dark. 
Looking back, I now see that God's unfailing love didn't just come to me every morning, it carried me through every night. His mercy was the breath in my lungs even though my body was weak. His mercy was love in my life even though I felt lost and alone. His mercy was a feast for my soul, sustaining me though I ached and starved for my life to change. 
And if I held onto Him then, I could hold onto Him now, heavy-laden and heaving and all. I can hold onto Him this minute (and the next . . . and the next), never needing to hold out for the morning to wash me anew. I can recall His mercies to my mind now, right here in this car driving over the lake that sparkles with the light of the good sun. 
I can walk through sorrow and sadness, the overwhelm of my soul. I can stand as my heart breaks, holding out hope for the fragility of it all — for the world and the ones I love. Though I weep, His mercies are new every morning. Though I carry the weight of sin in my soul and on my skin, His mercies are new every morning. 
His mercies are new every four o'clock, too. And every two in the morning then, again, at two in the afternoon when it's time to shuttle the kids across town. His mercies are new every millisecond, stretching wide and reaching deep to cover us for any reason . . . at any time, in any place.
This article is by Rachel Marie Kang and is featured in Everyday Faith Magazine.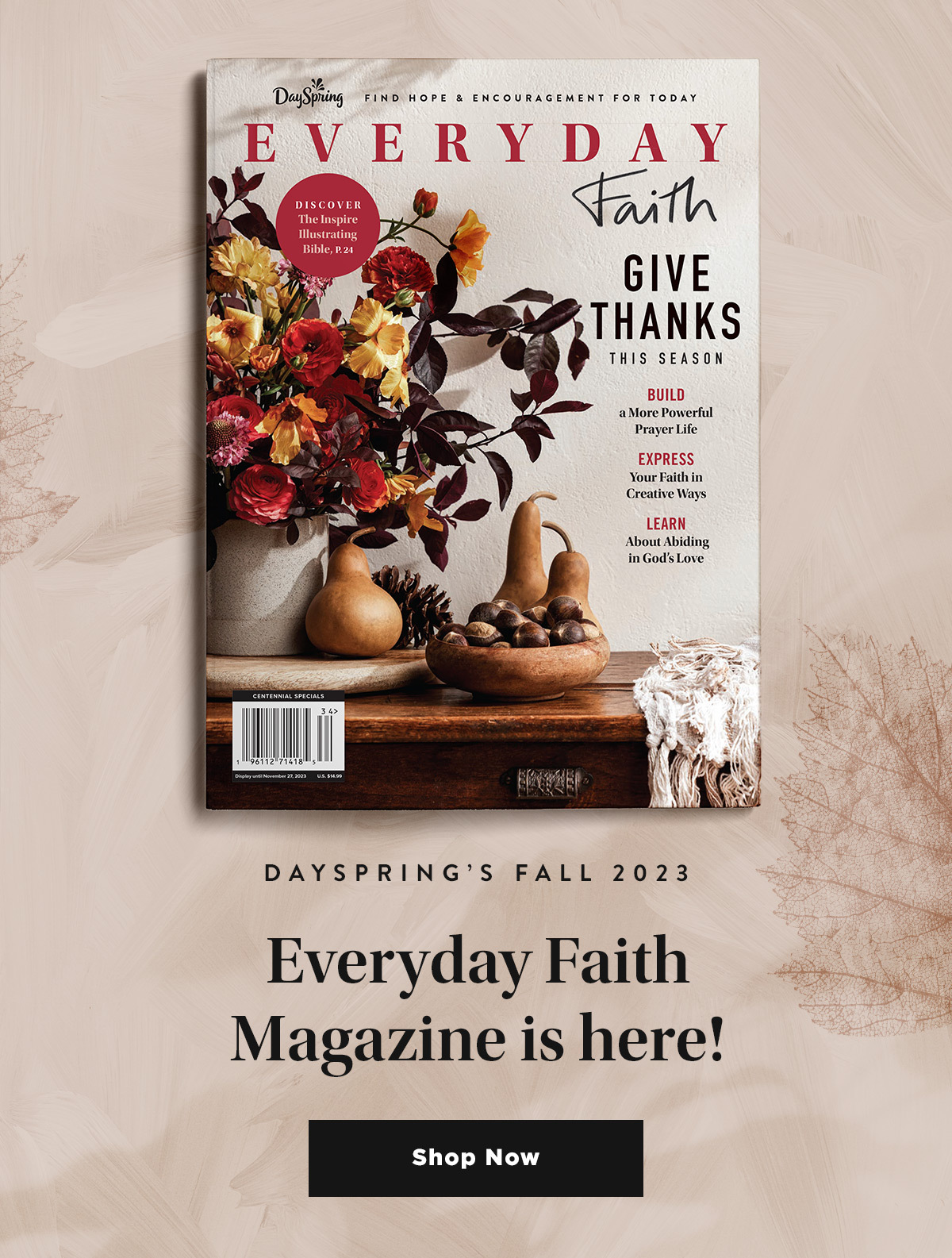 The brand new FALL issue of DaySpring's Everyday Faith Magazine just hit newsstands!
From cover to cover, you will find stories and articles like the one above that will inspire hope, prompt reflection, and encourage you for the upcoming autumn months. You will find tips on how to spruce up your front porch for the season, how to cultivate true gratitude, and how to dig deeper into God's Word. There are beautiful tear-out prayers to share cards, scannable QR codes for bonus goodies, and exclusive Fall Planning Calendars tucked inside!
Everyday Faith magazine will help you know and share God's love in fresh, true, and inspiring ways. Pick up your copy wherever magazines are sold and at DaySpring.com. This article is just one of many featured in Everyday Faith magazine, which, by the way, is perfect for reading on your lunch break, bringing in the carpool line, or gifting to a friend.
And to help you do just that, we're giving away FIVE sets of magazines — one for each winner and one for them to give to a friend! Leave a comment telling us to whom you'd gift a copy, and we'll draw five winners*.
Listen to today's article below or wherever you stream podcasts!
*The giveaway is open to US addresses only and will close on 9/1/23 at 11:59 p.m. central. 
Leave a Comment