Between social media, society, the workplace, and even family, it's all too easy for us to begin shaping our identity around who we think others want us to be. We may sabotage our actual needs, convictions, and aspirations, or hide parts of ourselves in hesitation of whether or not others will approve of us.
When was the last time you paused and thought about what part of you is aligned with who God created you to be, and what narratives might have been constructed by the expectation of your surroundings?
Narratives, from a psychological perspective, are the stories that we live out every day, the core beliefs that shape our self-identity. They help us understand who we are, where we come from, and where we're going. We take on narratives about what it means to be a good mom. Narratives about what it means to be successful and significant. Narratives about how much our voice matters and what we're capable of doing. Narratives about our worth and value.
For example, we may have bought into the cultural narrative that life is all about working and hustling and we end up running ourselves into the ground without having any outside life or meaningful relationships. Maybe we saw a parent operate this way and this example became our framework for how life should be lived. We may have assumed the narrative that we're unlovable or easy to leave because of heartbreak or abandonment from our past, which now creates anxiety in relationships. Maybe there's a passion or dream we feel called to pursue, but we're living under the narrative that someone like us isn't capable of such things, so we succumb to doubt and limiting beliefs. A modern narrative is the idea that you're as significant as the number of social media followers you have, how many likes you get, or the size of a platform you have online.
But what if you were able to pause long enough to break away from these outer voices and pressures, to reconnect with yourself and God, to start getting clear about what is truly aligned with your makeup, your personality, your passions, your true self, and ultimately, God's narrative for you? When was the last time you really thought about what played a role in creating your narrative, and how it has shaped the way you live today?
Why is this important to talk about? We have to understand that we weren't born as a blank slate. We were born into narratives that were already at play in society, in our families, and our culture. If we don't recognize those narratives, they'll impact our lives and we won't even realize that we're living in a story created by someone else. The therapeutic work of breaking the cycle of harmful beliefs or choices in our own family, culture, and world begins with awareness of the stories you were assimilated into, why they exist, and what it would look like to participate in an alternative storyline for yourself.
Because to break unhealthy cycles, a new story must be lived out.
We can reframe a new narrative to create a new reality that we can then pass down, healing not only ourselves but the cycle of those walking with us and those who come up behind us. Here's how:
1. God's Narrative for You.
We can see down to our fingerprints that we are uniquely designed. To our current knowledge, no human fingerprint is the same. Even identical twins don't have the same fingerprints! We are a unique combination of our genes, our biology, our experiences, our personality, our physical features, etc. In Isaiah 64:8, we're reminded that God is the potter and we are the clay, intentionally formed by His hands in a specific way. Ephesians 2:10 defines a universal truth about our identity and that we were ultimately God's handiwork created for good works. What is God's narrative about your true nature? That you are loved, purposed, redeemed, called. Anything we tell ourselves that doesn't align with who God says we are is a false narrative.
Reflect: What are some false narratives you've assumed about yourself versus what God's narrative is for you?
2. Signs of Your True Self.
I truly believe that God gives us indicators of our identity that are embodied and even visceral — you can feel it. I like to call these markers of grace. When you're graced for something, it's out of your doing and out of your control. It's the way you're wired and a natural part of how God made you. The things you naturally get excited about, the things you're passionate about and that make you feel alive and fulfilled aren't an accident. Pay attention to these moments; they point you toward your authentic makeup and the way you're wired. This is God's grace in your life.
Reflect: What are some things you've noticed that make you feel alive and fulfilled?
3. Live out a New Story.
Reflect on what a meaningful life actually looks like to you, even if it looks different than others. What would it look like to live out a narrative that's aligned with what works with who you are and how you're wired? This is one reason why Sabbath rest is so important. It gives us the space and time to pause all movement so we can think intentionally about our direction in life.
Reflect: What does it look like to start living out a new narrative that's aligned with how you're made?
—
There are plenty of books and journals out there about "finding yourself" and "discovering who you really are." But few of them point to the truth of Who made us and what He says about us. In Known: An Inspirational Journal for Self-Discovery, author Brittney Moses offers you the chance to discover your true identity from a Christ-centered point of view. It's so easy to get caught up in codependency or placing value on roles in life. But when everything else fades away, you don't have to feel lost or get stuck in disillusionment.
As in her devotion above, Brittney guides Known journalers to grace-filled truth, inspiring them with prompts and helping them uncover their God-given uniqueness along the way. 
Order your copy today . . . and leave a comment below for a chance to WIN one of 5 copies*!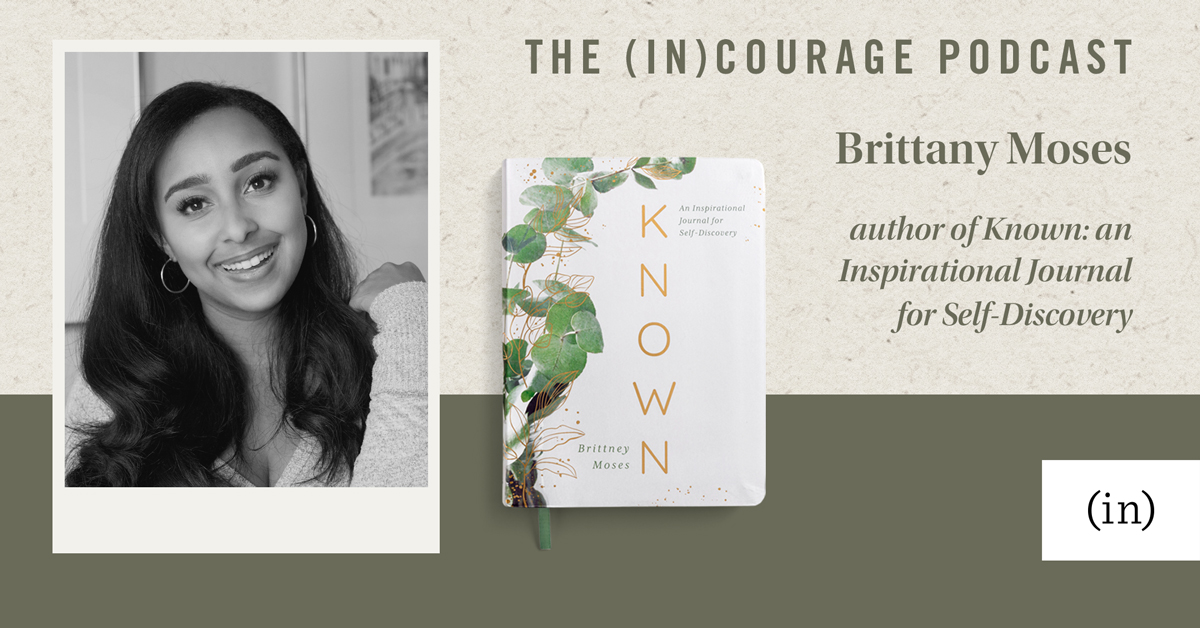 Then join Becky Keife for a conversation with Brittney this weekend on the (in)courage podcast. Don't miss it!
Listen to today's article at the player below or wherever you stream pods!
Leave a Comment