Living empowered to be like Jesus begins with the Holy Spirit's work in our hearts. He wants to create in each one of us a new heart that embodies His hope, peace, wisdom, and mercy. When we have a heart more like God, we are able to be His difference-makers in our hurting homes and fractured world.
One way to grow in these areas is to study what God says about them – to look deeply into the Word to find the hope, peace, wisdom, and mercy the Lord promises.
If you want your heart to be transformed into a heart more like His, we can help!
Our series of four Create in Me a Heart of… Bible studies are the perfect guide to help you learn about God's heart and grow in His ways. Each book in this series includes a six-week Bible study packed with meaningful teaching, real-life applications, daily prayers, and simple Scripture memorization. Perfect for individuals or small groups, each study is written by an (in)courage contributor and features stories each week from many of your favorite (in)courage writers.
You can use code CREATEINME to get the whole 4-study collection at DaySpring for $15 off + free shipping! Here's a peek into each study: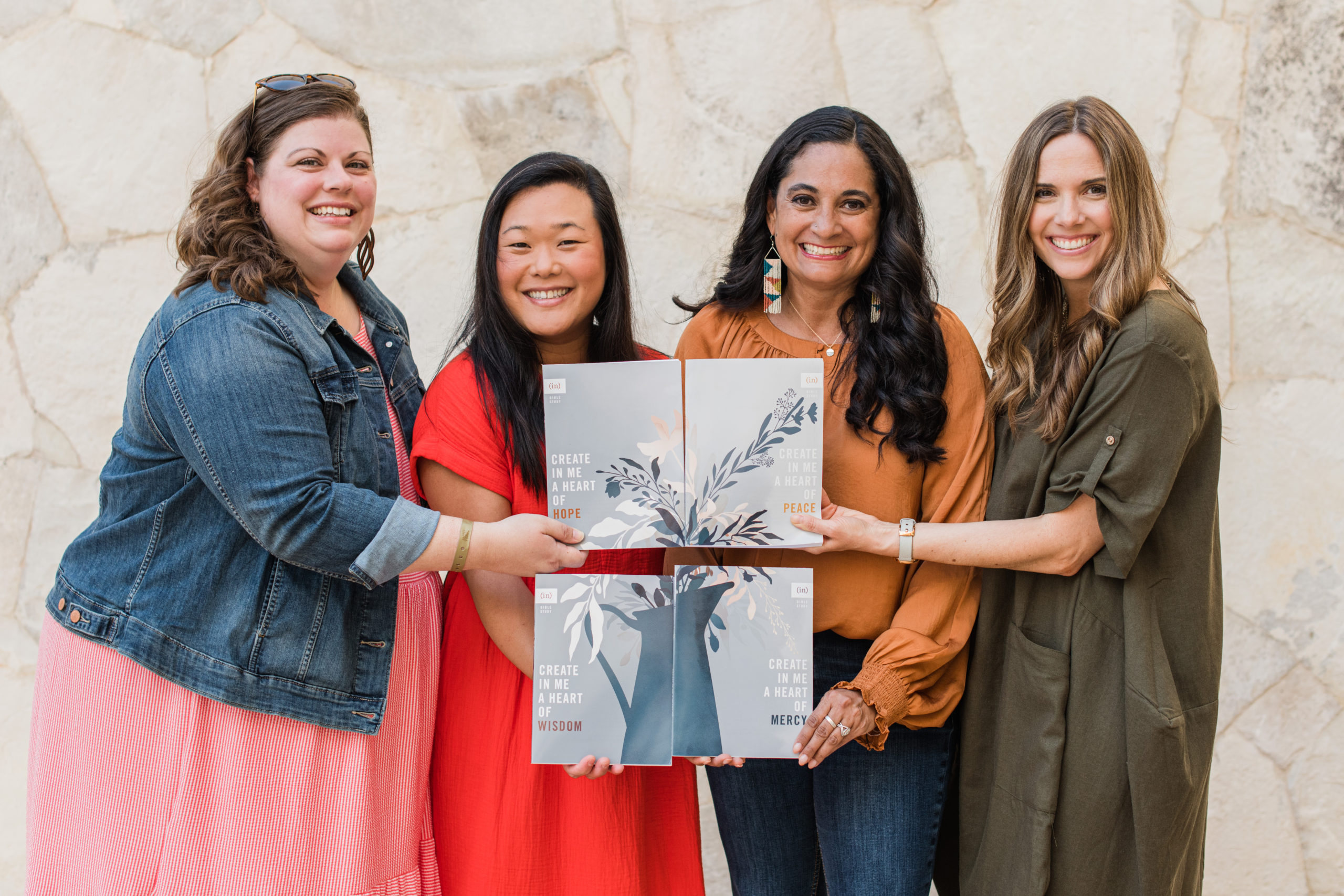 Create in Me a Heart of Hope
Have you ever felt hopeless? Perhaps you've found yourself facing circumstances you never prepared for or even imagined, and while you're desperately longing for some help or encouragement, you're beginning to wonder if that will ever happen. Perhaps you've gone through something painful, and now, on the other side, you fear that experience has redefined you or redrawn your perspective in a way that has destroyed your belief in a greater good. Maybe you're looking for any sign of hope, any hint of encouragement, any inkling that this—whatever your this might be— won't last forever and won't get the best of you. Maybe you're afraid to hope, or perhaps you're not even sure what hope is. God's Word and this Bible study are here to meet you in that very place.
In Create in Me a Heart of Hope, we dive deep into Scripture to examine what we believe about hope. We look at how God offers us hope — real, certain, unshakable hope — when we're waiting and when we're overwhelmed, when we've been hurt, and when we feel trapped. Looking at where that hope comes from and what it looks like in our lives will help us understand what hope is and what difference it makes. It will allow God to create in us a heart of hope.
Create in Me a Heart of Peace
Does the idea of lasting peace seem like an impossible dream? When you turn on the evening news and hear of another mass shooting, when that person you were supposed to rely on proved untrustworthy again, when you scroll social media and are bombarded by digital finger-pointing, name-calling, and shame-blaming, it's easy to feel that peace is elusive. It's easy to believe that peace is something mythical reserved for fairy tales and one-week summer vacations, that peace can't reach inside oncology wards and broken relationships. We all want peace. We crave an inner calm-meets-strength that doesn't rattle with volatile circumstances or disappear with busyness. What if this kind of unshakable peace actually is possible?
Create in Me a Heart of Peace will guide you to discovering the life-changing power of God's peace. Not a peace reserved for Sunday mornings or when you remember to pray before bed, but a peace that's available to you right now, right where you are. God wants to reach into your heart with His peace when you're exhausted from rocking a colicky baby or when you're weary of being single. He wants to comfort you with His peace when you're enduring another day of chronic illness or facing a conflict without a clear resolution. True peace isn't a fable or a religious fabrication to make people simply feel better; true peace is a person named Jesus. You might already know Him, but there is more He has for you, more He wants you to experience as His beloved friend, lamb, and daughter.
Create in Me a Heart of Peace is for anyone who longs to know that God is real and present and constantly working on our behalf. Whether you've been reading the Bible for decades or you're just finding out what it means to know Jesus, these pages are available to you as a guide to help you move through Scripture and discover what God's Word says about peace and the difference it can make in your life.
Create in Me a Heart of Wisdom
We all want and need wisdom, but how do we get it? When we're in a relationship with a toxic person and need boundaries, when our churches are divided by theological differences, when we don't know how to navigate unexpected difficulties, knowing what the right, good, or wise thing to do is difficult. It would be easier if wisdom were formulaic and we could follow a set of rules to fix every tricky situation. But the wisdom we need is the kind that can guide us when there is no right answer, when choosing the best thing goes against our loved ones' advice, and when it seems impossible to find a way through complicated feelings, relationships, and circumstances. We need wisdom to live life fully, and that wisdom comes from God. He understands our realities, sees beyond what we can see, and is the ultimate source of knowledge and understanding. In Christ, we have access to God's wisdom through the Holy Spirit, who directs our steps and dwells within us.
Create in Me a Heart of Wisdom teaches that wisdom is learned by understanding knowledge, listening to the Holy Spirit, experiencing struggle, being in community, and practicing what we learn over a lifetime. It won't offer solutions to specific problems, but it will offer spiritual insight and practical guided questions throughout the study to help you seek God and gain the wisdom you need. Discover the wisdom that is available to you when you ask God for it and learn to walk wisely with the help of the Holy Spirit.
Create in Me a Heart of Mercy
What does it mean to have a heart of mercy? Maybe you don't feel like you are a particularly merciful person. Maybe you desire to cultivate a heart of mercy but aren't sure how. Maybe you've been told you have a gift of mercy but would like to be more intentional about using that gift for God's glory. God has a heart of mercy. He cares deeply for the widow, the orphan, the single mom, and the immigrant. The plight of these people weighs heavy on my heart too, but sometimes I'm not exactly sure what to do with these feelings. Just how does God want me to extend mercy to others?
Create in Me a Heart of Mercy is designed to meet you in your questions about mercy. You don't have to travel to another country to understand God's heart for mercy or to demonstrate it to others. This study helps us consider our own desperate need for mercy, and how we must first receive it before we are then called to extend mercy to others in our everyday lives and beyond. Create in Me a Heart of Mercy goes on a treasure hunt through Scripture to learn more about how to cultivate a heart of mercy, and studies the stories of Old and New Testament characters who were granted mercy and who multiplied mercy to others. Our prayer is that this study will encourage you to learn more about God and yourself. Friend, we are journeying alongside you!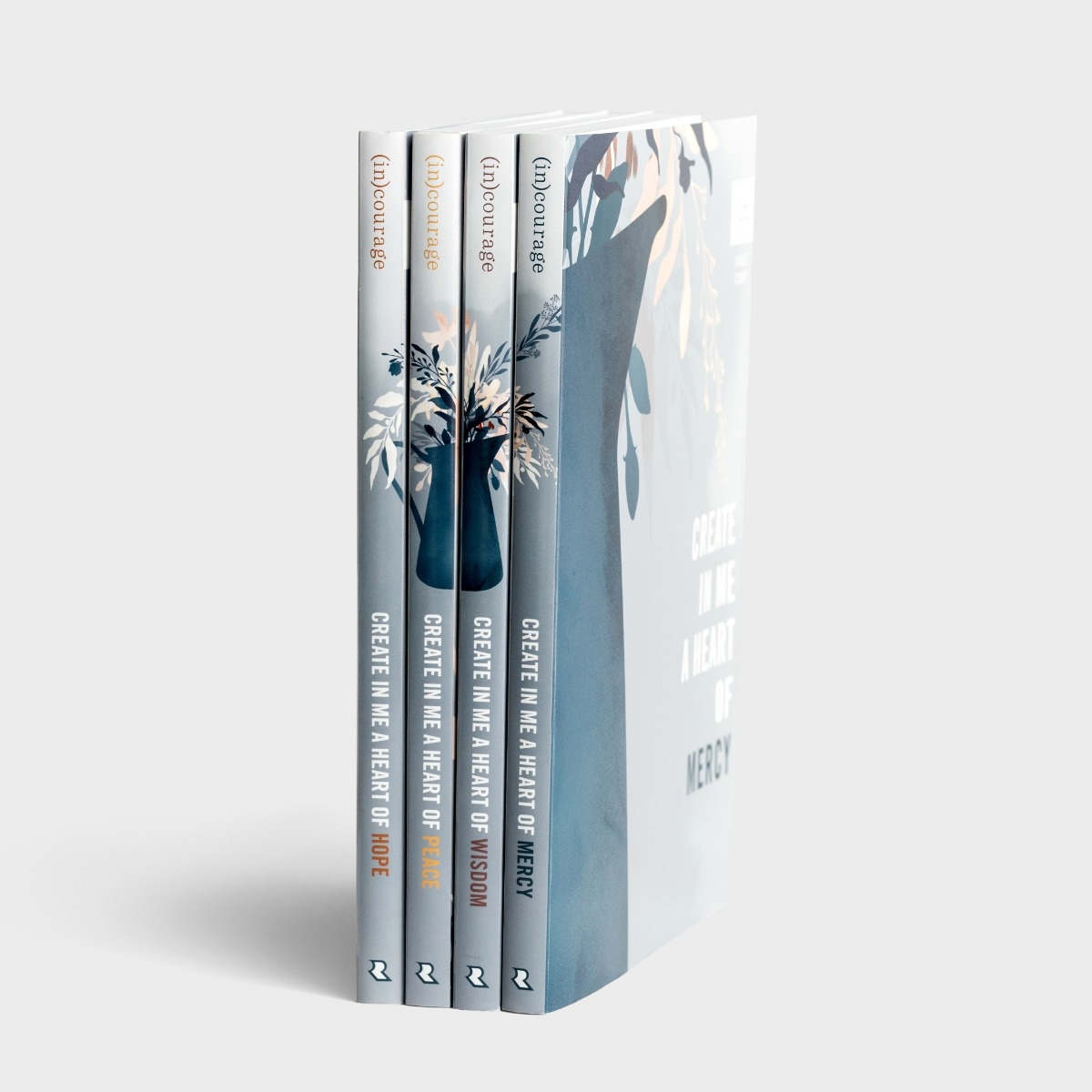 Every week of these studies begins with a personal story from an (in)courage contributor, following our mission of "going first" with our hard, messy, real stories. Many of these stories begin in deep heartache but inevitably find their way back to God and the great gifts He's given us of hope, peace, wisdom, and mercy. The other four days dive deep into God's Word to discover the source of hope in our lives, how peace transformed the lives of different people in the Bible, and the impact wisdom and mercy can have on our lives today.
It's never been easier to plan a full year of Bible study — just pick up your 4-study box set from DaySpring and remember to use code CREATEINME to save $15 + get free shipping on the collection! For more information + a free week from each study, a small group leader guide, teaching videos, and more, visit incourage.me/biblestudy.
Are you ready? Together, let's ask God to create in us hearts of hope, peace, wisdom, and mercy. His heart in us changes everything.
Listen to today's article below or wherever you stream podcasts.
Leave a Comment