I grew up in a church where we wore our "Sunday Best." And according to my parents, my ripped jeans with holes in the knees did not make the cut. I was okay with this exchange where my dresses and nicer clothes took the lead for one day a week. . . . until the final years of high school rolled around. Trying to bargain with my parents, I would say with a giggle, "These pants belong at church! They're my HOLEY jeans!"
A faint laugh made its way from their lips, but I saw in their eyes, it wasn't about me or even the jeans. It was about God and His holiness. I didn't quite understand what "holiness" meant, but my parents were trying to teach me that even with my clothing, I had the opportunity to give God my best and honor Him. Why should we give Him our best? Because God is holy.
After Jesus tells us to come to God in the prayer in Matthew 6, He goes on to describe how special God is. "Our Father who is in heaven, hallowed be Your name" (Matthew 6:9 nasb). Jesus could have said, "Mighty is Your name" or "Perfect is Your name" because both are true statements. But instead, Jesus specifically wanted us to know that our Father is holy. If we dig a little deeper, in Hebrew the word "holy" means set apart. It also means entirely pure in all ways. We could read this as, "Our Father in heaven, set apart and pure is Your name." When I think of something that is set apart, I picture something special. Kind of like our "Sunday Best" clothes. The only thing that makes these clothes any different from the rest of the week's outfits is the fact that they are set aside for a special occasion: church. But far more than clothing, God is holy and set apart because He isn't like the rest of us. He is not just any earthly father. He is greater; your heavenly Father is God!
So, as you share your days with your Father, who so deeply cares about every little detail of your story, may your heart be encouraged as you acknowledge that God is set apart. If He is your Father, then that makes you . . . His girl! So come to your Holy Father. Come as a holy child who is precious in His sight.
Everything about the Father is holy —  from the words He speaks in the Holy Bible to His Holy Spirit which He has given to you as a gift and helper to the holiness He is pouring over you, His beloved, right now.
But like the Holy One who called you, be holy yourselves also in all your behavior; because it is written, "You shall be holy, for I am holy."
I Peter 1:15–16
This might surprise you, but we are called to be holy too. Again, this means, "set apart." Friends, we are called to be set apart to and for our Father! In Christ, we are set apart and called to be different because of who God is and what He has done for us.
This call to holiness is stated many times throughout the Old Testament (the time before Jesus) and the New Testament (the time of Jesus and beyond). I like to think of this repetitive reminder like when your mama doesn't just tell you something once, but MULTIPLE TIMES — you know she means business and that it's important.
Through spending time with God in prayer, I've come to understand the beauty in these verses and why they're so important. It's like when you hang out with a friend so much and you start to say the same phrases they do, or you even start dressing alike. The more time spent with someone, the more you end up reflecting one another. The same is true with our relationship with God.
He has saved us and called us to a holy life — not because of anything we have done but because of His own purpose and grace. This grace was given us in Christ Jesus before the beginning of time.
II Timothy 1:9
Because you were bought with holy blood on the cross, in Him, you are holy. Because of His holy grace, in Him, sister, you are set apart.
As we dance through this side of heaven, I am beyond grateful we get to live out this call to holiness together. But don't view it as a sprint, or a pass/fail college class, or even like a waltz. When you picture dancing and partnering with Jesus in His holiness, don't worry about falling or missing a step. Let Him guide His girl in His grace. Let Him take the lead, then as His child, place your feet on His, hold His hands, and let Him twirl you through the kitchen for a daddy-daughter dance.
You shall be holy; for I am holy.
Leviticus 11:44
Devotion by Georgia Brown from Hi God, It's Me: 20 Days to a Stronger, More Powerful Prayer Life
For many, engaging in prayer can feel like a constant "stop-and-go" experience. It may be tough to get into a rhythm or frequently find the right words to say, especially during busy seasons or stressful days.
Hi God, It's Me: 20 Days to a Strong and Powerful Prayer Life by Georgia Brown encourages you to see prayer differently — not as a moment in time, but as a lifestyle that you can enjoy. In this 20-day guide, you will discover how to build a resilient prayer life that withstands waves of feeling or trying times. As you read selected Scriptures, pray, and engage in the fun activities provided, you'll learn how to get carried along in a current of fresh and meaningful conversations with God.
Pick up your copy of Hi God, It's Me today, and leave a comment below to enter to WIN one of five copies*!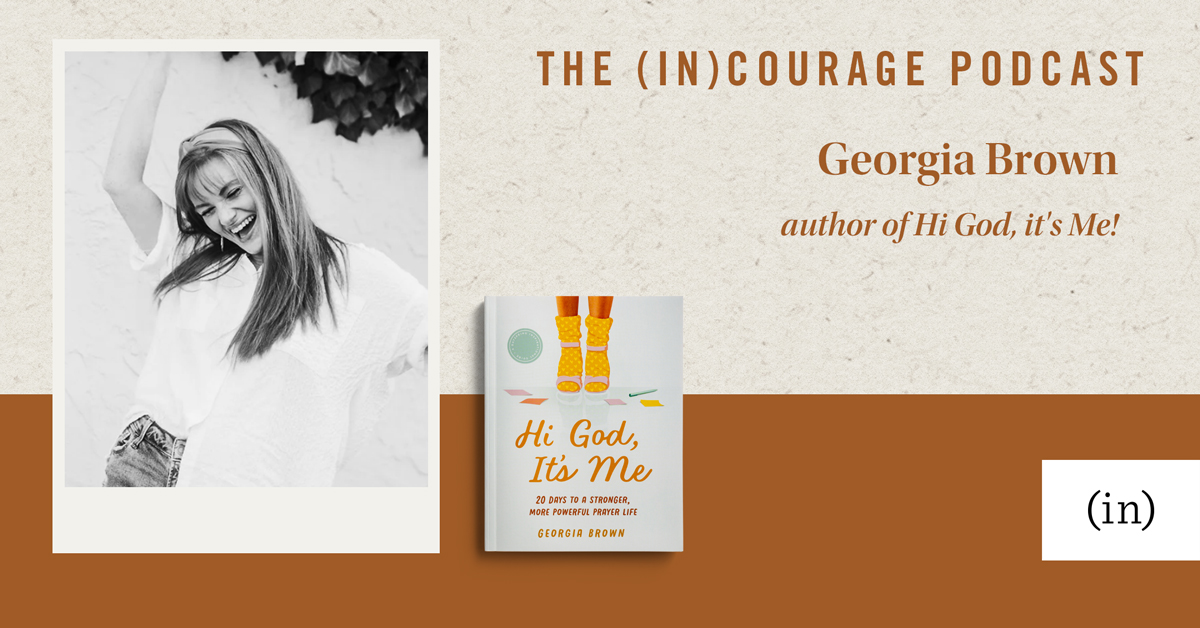 Then listen to the (in)courage podcast this Saturday for a bonus episode featuring a conversation with Georgia and Becky!
Listen to today's article below or on your favorite podcast player!
Giveaway is open until 7/24/23 at 11:59 pm central to US addresses only.
Leave a Comment