For you formed my inward parts;
you knitted me together in my mother's womb.
I praise you, for I am fearfully and wonderfully made.
Wonderful are your works; my soul knows it very well.
Psalm 139:13–14
How amazing is it that you're here today? The Scripture from Psalm 139 rings with such truth. God has a plan for you and for your life. You are not here by mistake! You were fearfully and wonderfully made. You have great worth! But when others' opinions creep in, they can make you feel unworthy. It's easy to find your worth in what others think of you or what they say to you. When you let their opinions or words define you, it breaks you down. This is when the negativity and pain creep in, telling you that you aren't worthy of happiness, love, and more.
When you start to hear those negative words creep in, hit the PAUSE button. Your worth shouldn't be found in what others say or think. You are a child of God, born for so many amazing purposes. Don't let others define you. Don't let the worry, the comparison, the mean words break down something perfectly curated from above. We all can have bad days, and cruel critics try to fill voids in their own lives by breaking others down.
Remember that they are broken people; instead of fighting back, choose to pray. Ask God to soften their hearts, and pray that they learn to know Him as you do! Often we can think up false truths in our mind of how others perceive us, fueled by our own insecurities, and the evil one knows what those are and reminds us of them. First Peter 5:8 says, "Be sober-minded; be watchful. Your adversary the devil prowls around like a roaring lion, seeking someone to devour." Know the source, question when these pop up in your mind, and ask yourself if God would really say that about you. In all of these situations, know your worth isn't found in these things but in how God sees you! And He loves you just the way you are.
Cling to Him and hold strong, knowing that you are worthy.
GO FOR IT!
Repeat after me: "I am who He says I am. I am a child of God. God has amazing plans for me! I am not what others say or what the negative thoughts say I am, but I am a child of God. He loves me, He knitted me in my mother's womb, and I am loved. I am worthy!"
Thoughts of the future can quickly bring us anxiety or discomfort, simply because so much is outside of our control. In Go For It! Boldly Live the Life God Created for You, author Melissa Horvath poses the important question: What if we fully trusted the One who does have control? Throughout this book, readers will be deeply encouraged by the reality that God will fulfill His purpose — which means that they can boldly live the life that God has uniquely carved out for them. This book is for all those who want to leave fear behind and step courageously into the future God has lovingly prepared for each one of us! 
This new devotional will empower and encourage you to live the life God created for you. Go For It will inspire you to be the best version of yourself, encourage you with uplifting thoughts, help you focus on the good things God has already given you, reveal His promises for your life, and show you how to boldly live them out in your daily life. Designed with 90 devotions to help you go for it, each devotion begins with a Scripture passage followed by an inspirational message to challenge and encourage you in your work, life, and faith. Devotions end with engaging questions to help you apply the spiritual and practical principles as you partner with God to boldly live each day empowered and equipped by Him.
Order your copy of Go For It! today . . . and leave a comment below for a chance to WIN one of 5 copies*!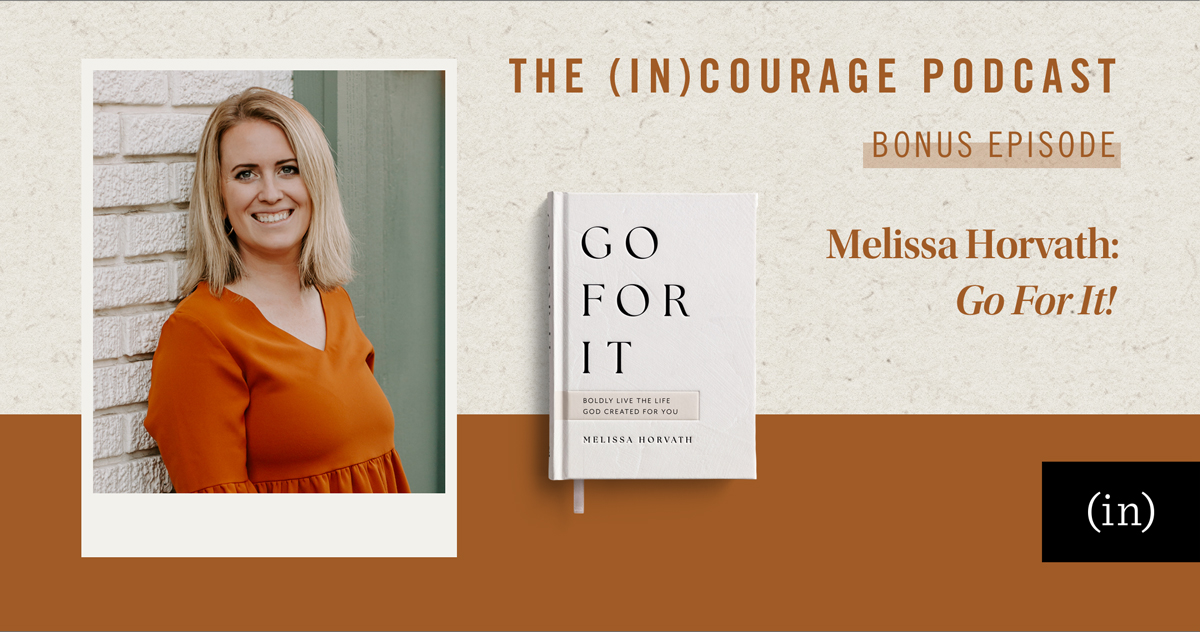 Then join Becky Keife for a conversation with Melissa this weekend on the (in)courage podcast. Don't miss it!
Listen to today's article at the player below or wherever you stream podcasts.
*Giveaway open until 3/21/23 at 11:59 pm central to US addresses only. Winners will be notified via email. Please allow 4-6 weeks for delivery.
Leave a Comment