Whenever someone offered to help me with anything, my automatic response used to be, "Oh, you're so sweet! No, I'm good." Whether the roots were pride or fear, my brain automatically Google translated any well-meaning "I'd love to help you with" offer into a negative criticism that sounded to me like: "I think you're falling apart, and clearly, you're failing at life."
Once, I wrestled with a dear friend's loving offer to help me move after prayer and many trusted voices affirmed that it was time for me and my near-adult children to move from our home. My warped Google-translate kicked in as my insecurities fired up. It didn't take long for me to reply: "Thank you for offering, but I'm good. I can handle it."
When a friend offers to help, is your knee-jerk reaction the same? What's puzzling is that most of us love helping others, but we bristle at the thought of them offering to assist us. It's wild how we can apply one set of beliefs about ourselves yet create a completely different set of beliefs for others in the same situation. How do we give ourselves permission to willingly and joyfully accept help whether we think we need it or not?
My spiritual breakthrough on this accepting-help issue was parked by a single question. As I packed up my children's books and blankets, tears dripped on the cardboard boxes. I was worried about taking them away from the only home they'd ever known and grieving the circumstances that made our move necessary. Somewhere between stacking one box and preparing another, I heard a clear whisper fill the air around me: Barb, don't you want your children to see the hands and feet of Jesus working around them on one of the most difficult days of their lives?
The aha moment came when I realized that God didn't send my friend to help me with boxes and bedsprings. Instead, God was sending her to show my children and me divine signatures of His presence and His hope, which we needed more than a workforce for the move.
In Matthew 4, Jesus endures the trial of Satan's temptation in the desert for 40 days and 40 nights. Put yourself in Jesus' weary place. After that experience, the human side of Jesus would have been worn out. If accepting help is hard for you, the final verse of that ordeal offers a powerful insight that can reprogram your automatic response:
"The devil went away, and angels came and took care of Jesus."
Matthew 4:11
First, we can always cheer when the devil finally leaves us alone, right? However, the inspirational moment in this verse is seeing that the angels came to care for Jesus and that Jesus accepted their help. I can imagine them showing up with warm food, a soft blanket, and their compassionate presence. If Jesus were like me, He would have said, "No, thanks, I'm good" or "There are other people who need help more than me." But He didn't do that. Instead, Jesus allowed Himself to be ministered to by the angels. His divine nature wasn't diminished by accepting help from others. Just as God sent those angels to minister to Jesus, today God sends people to minister to us as well.
What stands out to me is this: Jesus accepted help, so we can and should too.
Could Jesus have gotten Himself together on His own? Yes, but God lovingly sent the angels to minister to Jesus anyway. For all the times we pray and ask God for help, He often sends it through others. The hard part is letting down our guardrails of pride, fear, or embarrassment to receive it.
After my spiritual breakthrough moment and difficult move, I told God that I would say yes to any and all offers from friends over the next thirty days. I wanted to give God every opportunity to reprogram my automatic response and deprogram any lingering pride and fear about accepting help that remained in me. God honored that request and sent more friends to surround us with love and support during that rough time. While we had an experience that I prayed we wouldn't go through, God sent others to minister to us each step of the way.
This article is by Barb Roose and is featured in Everyday Faith Magazine.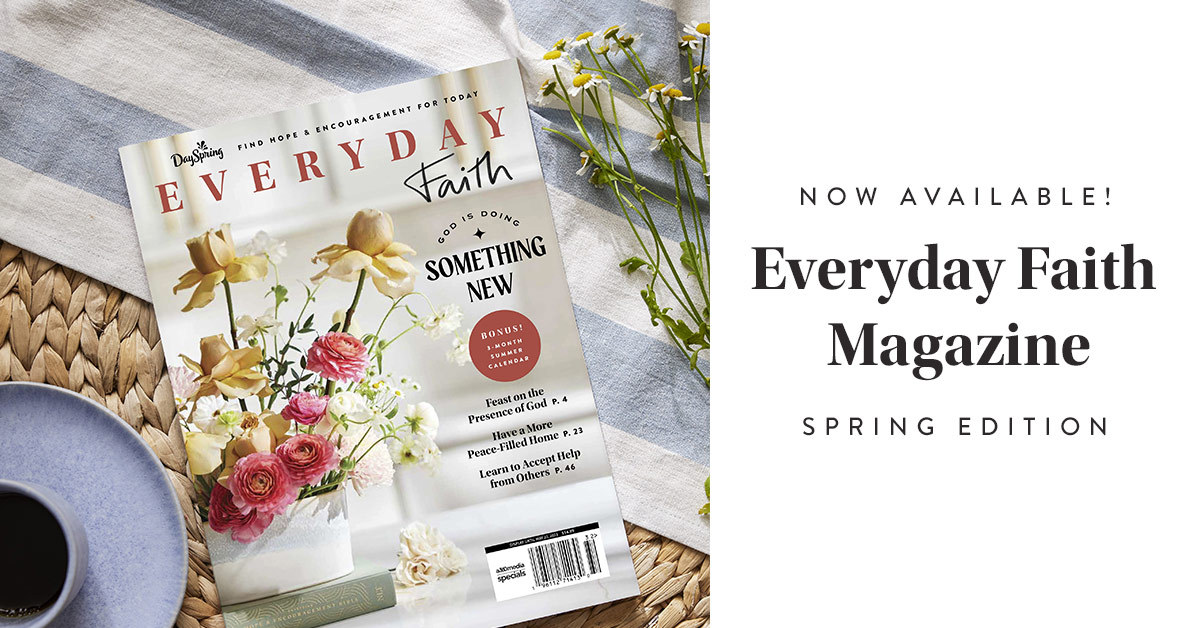 Did you know DaySpring has a magazine? It's true! And the brand new SPRING issue of Everyday Faith just hit newsstands!
From cover to cover, you will find stories and articles to inspire hope, prompt reflection, and encourage you for the upcoming months. There are beautiful tear-out prayers to share cards, scannable QR codes for bonus goodies, and exclusive Spring Planning Calendars tucked inside!
You care about your faith — that's why you're here today! — and Everyday Faith magazine will help you know and share God's love in fresh, true, and inspiring ways. Pick up your copy wherever magazines are sold and at DaySpring.com. This article is just one of many featured in Everyday Faith magazine, which, by the way, is perfect for reading on your lunch break, bringing to the school pickup line, or gifting to a friend.
And to help you do just that, we're giving away FIVE sets of magazines — one for each winner and one for them to give to a friend! Leave a comment telling us to whom you'd gift a copy, and we'll draw five winners.
The giveaway is open to US addresses only and will close on 3/17/23 at 11:59 pm central. 
Listen to today's article below or wherever you stream podcasts!
Leave a Comment