We're in the kitchen and not talking about Muslims. Instead, my Muslim daughter and I are making pies. Pumpkin. Apple. Crusts just right. Filling on point.
This is the Thanksgiving my daughter wanted. No arguing. No debating. No theological fighting. Just cooking, family, and togetherness. "Look, Mom. We're bonding," she says, and we look at each other and laugh. Together.
Both of us know we shouldn't be here. Together? I shouldn't even imagine it.
But God.
I want to say those two words so badly—to start preaching "up in here," as my beautiful urban pastor would say. Instead, I stand in my daughter's Nashville kitchen, measuring out flour, cracking eggs, politely sprinkling nutmeg in the pumpkin pie filling, keeping myself from jabbering about terrorists and mass shootings and my precious daughter's wild, worrisome, and theologically unwieldy journey to Islam.
Our Christian daughter is now a Muslim. And I can find grace in that?
Grace is the last thing I expected in 2001 when she walked away from Jesus, leaving the cross for the crescent. In our long-standing and immovable Christian family, her announcement kicked me to my knees—the best place for a believer, but still the toughest.
As a mother and daughter, our faith battle was "royale," and we fought it hard and ugly. For ten long years we could barely speak to each other without arguing.
Indeed, I was furious with my daughter's decision. I was embarrassed. I didn't see it coming—this global shift in our family's faith dynamic. We were, after all, determined Sunday churchgoers, and we were real satisfied about it.
While away at college, she left the family faith altogether. Still hungry to know a god, as she tells it today, she gravitated to students from the Middle East who espoused a belief called Islam. Intrigued by her new friends' modest garb, cultural theology, and claims of a deity "who doesn't need partners"—a reference to Jesus, as she explains it—she left Him for them.
Without warning, she donned a hijab, recited Islam's short Shahada (profession of faith), and converted.
I got the phone call not long before the 9/11 attacks.
"Hi, Mom. I just called to tell you that I'm a Muslim."
"A what?"
"A Muslim."
And there we were. That long road of walking casually with Christ as a family, of watching a daughter pull away but not knowing how to address her emotional departure, of seeing that she didn't know the Lord for herself but not making it a priority to learn how to fight that particular problem through prayer, had led us to this moment.
"Mom, I'm a Muslim."
For years I told our story with pain and regret. Remorse and heartbreak almost trapped me in an unyielding state of self-condemnation and guilt: I'm a bad mother. I'm a bad Christian. I'm worth nothing to the kingdom of God, so I should just stop trying to be worth anything to anyone.
But God.
Remember those words?
They show up in the Bible in the most unlikely places: with rain-soaked Noah (Gen. 8:1); with life-exasperated Jacob (Gen. 31:42); with sibling-challenged Joseph (Gen. 50:20). Standing before his starving, cheating, double-dealing brothers, Joseph invokes the two most grace-soaked words of the Bible: "You intended to harm me, but God…"
So, I reasoned that if every "but God" in the Bible is true, it had to be true in my relationship with my daughter too. I had to extend grace to her first. Gritting my teeth sometimes — as she would say now, laughing — I stopped battling over religion and granted her the grace of trusting God with the end of our story.
Humbling, indeed, is any family's grace journey.
But God.
Grace rises to become the best possible gift to offer a loved one, trusting God with the final say, especially when the two of you don't see eye to eye. I learned that the hard way. Beating myself up for failing, I received from the Lord not condemnation but an assuring and welcome break: "Yes, you are a good mother. Yes, you are a good Christian. Yes, you are worth much to My kingdom and to this world, no matter what you or your daughter did or didn't do. So stop sorrowing and get to work. I need you in the vineyard."
This is grace undeserved, as our theologians say.
Stunned by this grace, I therefore extend it to my daughter. I no longer fight with her. We make our Thanksgiving pies on this Nashville day and never once argue. Instead, I luxuriate in my daughter's kitchen love, watching this woman I raised cook and stir and busy herself in that way that looks like me—even if when we pray we're not yet on the same bright path.
I could berate myself all day, moping around the kitchen and feeling sorrowful about our interfaith dilemma. Instead, I choose to let my daughter love me, to let my grandchildren spoil me, to let my husband joke with me, and to let God assure me. In that way I take grace one step deeper: I extend it to myself.
I now pray with hope and accept God's love on purpose. This lets me walk, live, and serve without looking back.
I could gorge myself on regret until I'm stuffed. Instead, by grace, I eat pie. "Taste and see," says the psalmist, "that the Lord is good" (Ps. 34:8). He is. Always.
Excerpt by Patricia Raybon, from Come Sit With Me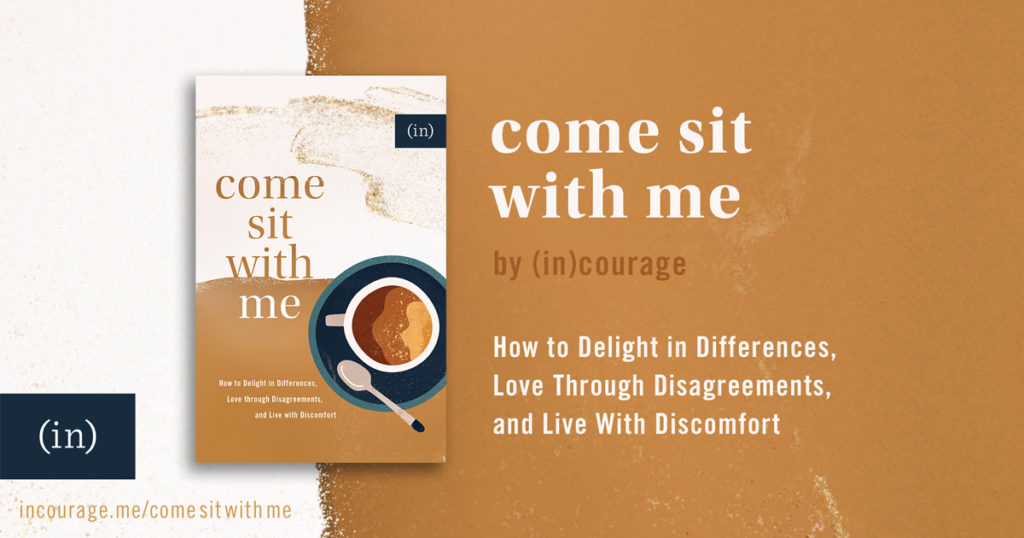 In our new book, Come Sit with Me: How to Delight in Differences, Love through Disagreements, and Live with Discomfort, 26 (in)courage writers show you how to:
delight in your differences
honor and value others even when you disagree
connect before you correct
trust that God is working even when people disappoint you
live and love like Jesus by serving others.
These amazing women get fully vulnerable as they share about the real, the hard, even the yet unfinished. From politics to religious differences, from dealing with toxic people to dealing with our own unforgiveness and desire for revenge, (in)courage is here to reveal the struggles no one really wants to talk about – and how we can actually grow closer to God and others through the circumstances we'd rather run from.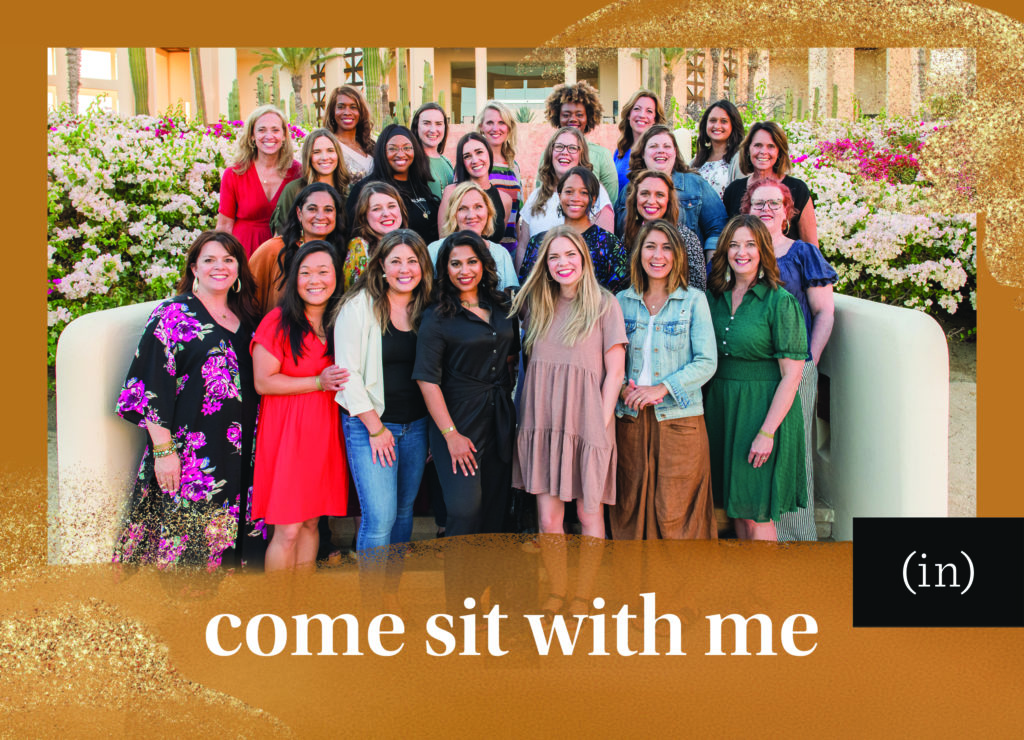 It's launch day, and we're celebrating!
To celebrate the release of Come Sit with Me, we're giving away FIVE gift bundles!* Just leave a comment on this post telling us which topic resonates with you the most (find the full table of contents here), and you'll be entered to win a bundle that includes:
Whether you're in the middle of a conflict without resolution or wondering how to enter into a friend's pain, this book will serve as a gentle guide. Discover how God can work through your disagreements, differences, and discomfort in ways you might never expect. We're thrilled that this very special book is able to be in your hands; get your copy today.
Listen to today's article at the player below or wherever you stream podcasts.
*Giveaway open until 11/4/22 at 11:59 pm central to US addresses only. 
Leave a Comment