Then He said to the crowd, "If any of you wants to be My follower, you must give up your own way, take up your cross daily, and follow Me. If you try to hang on to your life, you will lose it. But if you give up your life for My sake, you will save it. And what do you benefit if you gain the whole world but are yourself lost or destroyed?"
Luke 9:23–25 (NLT)
Have you ever felt like the path you were on was off? That somehow you had taken a wrong turn? After college, I got a job as a traveling professional development trainer. On one occasion, I rented a vehicle and had to rent the GPS separately. Once I got into the car, I put the GPS on the dashboard mount. I put in the address of my location, and it stated that I had a six-and-a-half-hour drive. What happened next caught me off guard.
I was driving in the direction the GPS told me to go, yet I found myself on dirt roads far away from highways. I drove by large farmlands in the middle of Ohio. I kept on the path the GPS told me to take until I realized that every major road I had come across was not part of my route. Instead, my GPS was taking me down back roads. I was headed to Cleveland, and my GPS was directing me down the longest road to get there. After inspecting the GPS, I realized it was set to "back roads only." Somehow, while the GPS was in my purse, I pressed buttons that set it on a path I was never intended to be on. Once I corrected the settings, I got to my destination by getting on the right road — which was quicker and smoother.
How often do we get into a car (which represents our lives) with a GPS (which represents the preselected settings of our mind and societal pressures) only to be driving in what feels like circles, unable to truly connect with the journey? In moments like these, God, in His love for us, will whisper, "Check the settings," as He did for me in real-time.
The programming of the world will often leave us feeling lost and confused, wondering, "Where am I?" Check the settings, my friend. When Jesus says you must give up your own way, He is saying, "Once you give up your life, your journey, and your way, and decide to do life My way, that is when you will find your way."
I can't tell you it will be an easy or quick journey, but it will be the right one. This type of journey happened to me when I left my job to become a full-time mom and wife. Before I left, I reset my settings by deciding my life was no longer my own, and I gave up trying to live my way. Now it was time to do things God's way.
Let's pray:
God, redirect my thoughts to You every single day. Redirect my motives. Redirect my desires. Release me to follow Your plans and Your purpose for my life. In Jesus' name. Amen.
This article is from Release: 90 Days to Embrace God's Plan for Your Life by Bridgette Reed.
—
Do you ever ask God, "Is this really what you want me to do?"
If so, you're not alone! When we don't see God's plan playing out, especially the way we think it should, we start to doubt that we are in the right place. During the boredom, the tedious tasks, and discomfort, we begin to question God's purpose for us, fantasizing about the opportunities we think we should have taken, and eyeing the paths that still appear far more rewarding.
Release: 90 Days to Embrace God's Plan for Your Life, by Bridgette Reed, is a daily devotional designed to help you live by faith, not by sight. God's dreams for us are bigger than ours, and His ways are above our ways. In this devotion book, you'll discover how to embrace God's perfect purpose for your life and the great joy that's waiting for you there. It's time to exchange your plan for God's plan and experience the true freedom that comes from giving it all to God!
Get your copy today (and pick up a copy for a friend as well). . . and leave a comment below for a chance to WIN one of 5 copies*!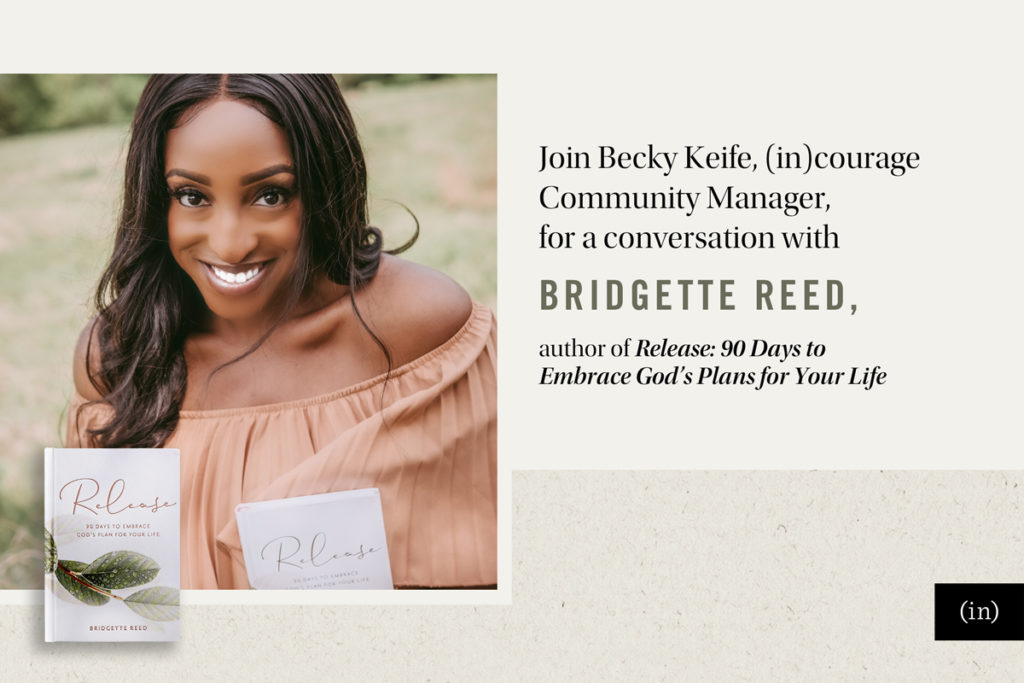 Then tune in to the (in)courage podcast this weekend for a special episode with Becky Keife and Release author Bridgette Reed. Don't miss it!
*Giveaway open to US addresses only and will close on 10/9 at 11:59pm central.
Listen to today's article at the player below or wherever you stream podcasts.
Leave a Comment