I stepped into the recording studio, surrounded by quiet walls all empty of echo.
"You can put your stuff here," the sound engineer told me. I dropped the heavy book bag carrying my sweater and 64 ounces of water.
There was foam padding and wood pallets on the walls. And then, in the other room, a piano, drums, and framed CDs. In an instant, I was transported back to the dream I cradled some fifteen years ago. The dream of being a singer in a touring rock band — a recording artist releasing album after album.
There, in that moment, the remembrance of this dream also brought back the realization that the dream was long and dead. It wasn't a dream I held very long, because just as soon as it came to be, I learned to lay it down and leave it by the wayside.
My body, all those years ago, became weak from a bout with Rheumatic Fever. Straining to sing through a sickness that lasted from season to season, I was faced with this one undeniable fact: Singing for a career would not be in the cards for my future. 
I lived in and through all those years since letting my singing fade to silence, seeking God and asking Him what to do with this dream, this deeply embedded desire. But God — He never answered me. He never wrote it on the walls, never spelled out scriptures in the sky. He never audibly, assuredly told me what to do with this one passion I pined so much for.
Time evades and, in time, I got married, birthed two boys, changed careers, and welcomed new weaknesses in my body. Then came the unexpected journey of pitching my book, Let There Be Art, while pregnant in the middle of the COVID-19 pandemic. In the blur that stretches from 2020 until now, I went from pitching to writing to publishing to the moment I was standing in the studio and recording the audiobook.
There, with my feeble frame standing between padded, soundproof walls, I heard and sensed and felt God impress — so loudly and strongly and surely — upon my heart that, though one creative season of my life came to cease, He was still working His creativity in and through me.
Yes, all along, He had been preparing and propelling me forward to realize and receive new visions for new desires, new creative dreams. He is good that way, in that He is always creating and calling us into redirection, redemption, and reimagining.
In and through seasons, you too will have creative dreams that will dwell and also die. Your creativity will come to exhilarating crescendos, only to come crashing down to the quietest lull. You will ask yourself: Am I still creative? Have I ever been creative? Will I ever be creative again?
You will wonder: Why in all the world did God let that dream discontinue? How could He let it stir only to let it sizzle out? You will ask Him what will ever become of your past passions to bake cakes, sing songs, write books, and dance on dusty stages. Yet, as earnestly as you might ask — or cry, or pray, or seek — you may not ever see scriptures in the sky or words written on walls. You may not hear it in a sermon or a song or from that friend who always says the right thing, at the right time, in the right way, on the right day.
So, hear it now — and believe it to be a truth bound to the heartbeat of God:
You will always be creative. Even when your flesh fails, even when careers change. As the kids come in and out of your home, as the years race and the hands age. When work overwhelms, when dreams dissipate — pay attention. Learn to look at the life that surrounds you. Press into the present, then ponder and pray: How is God creating in and through me now, even if it looks different from that which I first dreamed?
Like me, you may be recording audiobooks instead of rock albums. You may be baking casseroles instead of world-famous cupcakes. Or posting family pictures instead of publishing professional photographs. Or singing your son to sleep instead of singing on a stage. You may be wheeling your way through nature trails instead of running and relishing through them like you did way back when.
You may be making a home out of a fixer-upper house or solving problems with innovative solutions or building a business with your bare hands. Though it may not be perfect, published, or prominent . . . though you may not be heard from any pulpits, movies, or stages . . . you are bringing things, people, and places to life. You are shepherding souls with creative care. You, in all you do, are exemplifying the very passion and pleasure of our Heavenly Father who is always creating, always at work doing new things (Isaiah 43:19, NIV).
Even when life changes, when bodies break, and when creativity seems a long-forgotten, far-fetched myth — you will always be creative, just as The One Who Created You.
Share in a comment: where in your life do you see that God is creating in and through you? Is it in the classroom? At home with your kids? Online where you share pictures and posts? In church where you serve and see people coming to new life?
—
For more encouragement on creativity and calling, order Let There Be Art. When you order before October 11th, you'll also receive a free copy of the audiobook of Let There Be Art! Get a copy for yourself and get one to give away — it would make a great birthday or Christmas gift for all the women in your life!
Order your copy today and leave a comment below for a chance to WIN one of 5 copies*!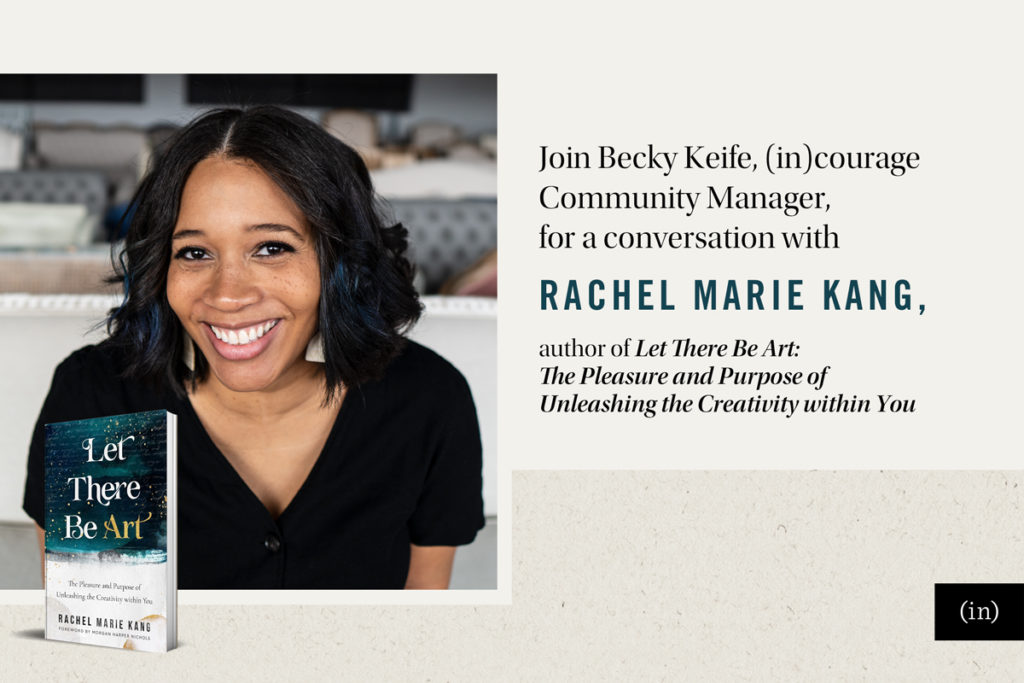 Then join Becky Keife for a conversation with Rachel this weekend on the (in)courage podcast. Don't miss it!
Listen to today's article at the player below or wherever you stream podcasts.
*Giveaway open until 10/3/22 at 11:59pm central to US addresses only. Winners will be notified via email. Please allow 4-6 weeks for delivery.
Leave a Comment