In the early days of motherhood, worn-out running shoes and a rickety double stroller were the threadbare ties to my sanity. Daily I tied up those laces like I was girding my flailing ability to mother. I strapped the three-year-old in the front stroller seat, the two-year-old in the rear, and doled out an abundance of snacks and sippy cups. I prayed their wiggly bodies would calm under the three-point-harness security. If not, at least they were contained.
I hoisted the baby into the strappy apparatus attached to my chest. Tiny sun hat and pacifier, check. Burp cloth tucked in my back pocket in case the morning's projectile spit-up wasn't quite finished, check. We were ready to go. Me and my boys.
My feet pounded the pavement as I strained to propel the precious cargo forward. I pushed harder, trying to relieve the pressure that pressed from the inside. I was out of breath before I made it to the end of the block. The boys babbled to one another about kitties perched in picture windows and earthworms squished flat on driveways.
I battled my thoughts.
Just go home! You're sleep-deprived and out of shape. Why torture yourself this way? Turn on the TV for them and go back to bed.
But then I'd think, No, you need this. Stay the course. You'll find your rhythm. It will get easier. Just breathe. Just breathe.
As much as my legs hurt and my lungs burned, I had to keep going. Fresh air and moving my body, no matter how squishy, get the endorphins flowing. The combination is like soul medicine. I needed a strong dose.
I turned toward the foothills aglow with morning light and made my way to the quaint main street just coming alive. Shop owners turned on lights, and hot coffeepots steamed as servers in maroon aprons filled mugs for customers huddled around small sidewalk tables.
The wobbly left stroller wheel clunked hard over another concrete bulge. The baby kicked his legs and a tiny sock fell off again. I paused to pick it up, sip some water, kiss each toddler.
I kept pushing north until the shops fell behind us. Historic bungalows and craftsman homes now lined the wide street. Noah and Elias both started to squirm under their buckles, fussing that they needed more snacks. Noah dragged his foot against the sidewalk. Elias leaned over the edge of the stroller, stretching his chubby toddler fingers toward a nearby rosebush and shrieked when it was out of reach. I turned at the top of the long street to make our descent. My back was aching, and the baby was stirring from his short snooze.
By the time we walked past the other side of lovely homes, I'd stopped a dozen times to discipline, soothe, or redirect a child. I may have bribed my boys through gritted teeth to please stop whining and sit still just a little longer and they'd get to watch an extra episode of Curious George at home.
When we got back to the Village, the shops and stores were bustling with more people, which somehow made me feel both comforted and more alone.
I looked ahead and saw customers filling the outdoor seating area of another little breakfast diner. A group of older men crowded around two tables pushed together. Their chairs spilled over onto the sidewalk. 
"Keep your arms and legs inside the stroller," I reminded the boys as we approached. I was sweating.
Just then one of the gentlemen stood up. I thought he was going to scoot his chair out of the way to give me more room to pass by, but instead, he started clapping. Then he declared in a deep booming voice, "Here comes Super Mom! Make way for Super Mom! Let's give her a hand!" And together, as if on cue, his retired comrades all joined in a spontaneous standing ovation for me and my little crew.
"A round of applause for Super Mom!" he cheered.
I was so caught off guard. All I could do was flash my bewildered smile and keep on walking.
But it didn't take too many paces before my vision blurred with tears.
This unexpected kindness struck me to my core.
There's no way Mr. Kind Stranger could have known that beneath my sunglasses and smile was a mom barely hanging on. But God did. And He used one person's willingness to unexpectedly lavish encouragement to make a difference in my day — to remind me that I'm not alone. I am loved and seen. 
Tears eventually slid down my cheeks as I turned onto our street. But they didn't fall on the strained grimace I wore at the start of the walk. No, I let that Super Mom smile stay stretched across my face, catching every salty drop of gratitude.
Simple words of encouragement are the uncomplicated gift we can give without cost or limit. A genuine compliment, a heartfelt thank-you, a sincere apology. There are a million ways to tell a neighbor or stranger that you see her, that she is not forgotten. You are valuable. Your pain matters. You're doing a great job. You inspire me.
Do not underestimate the power of kind words.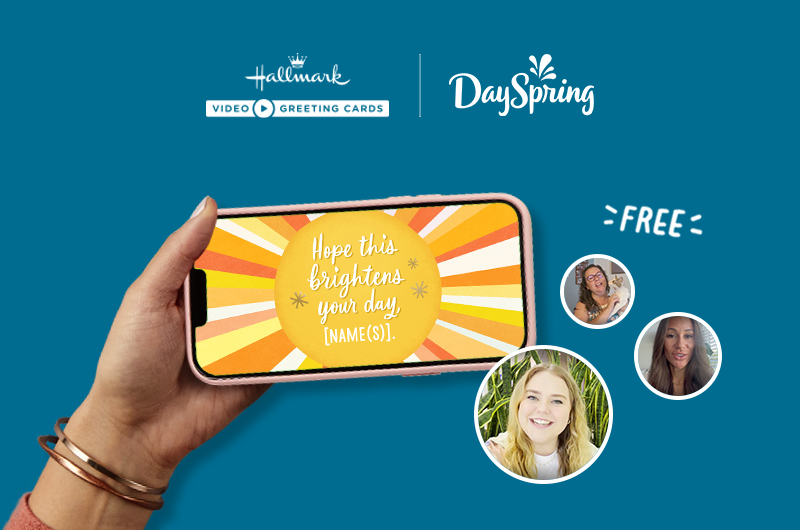 September 12th is National Day of Encouragement, a day set aside to bring encouragement to others. At (in)courage and DaySpring, we know you share encouragement all year round – thank you! We want to help you be ready to share that encouragement not only on the National Day of Encouragement, but on any day.
You can celebrate National Day of Encouragement by sending a FREE exclusive video card by Hallmark and DaySpring! Make someone smile by adding photos or videos, then share it instantly via text or email. Want to really spread more love? You can send as many as you like, all through September.
A glad heart makes a happy face.
Proverbs 15:13 (NLT) 
Listen to today's article below or on your favorite podcast player!
Leave a Comment