I think it's safe to say that I am not the only one who gets encouraged when people like my social media posts and choose to follow me. I would also confidently say that I am not the only one who gets her feelings hurt sometimes when people write mean comments and choose to unfollow me. When I think about likes and follows, many things come to mind, but one thing in particular is the word inconsistent.
I remember one time I was streaming an Instagram Live and I had someone tell me that I was hideous and mere moments later someone else tell me that I was beautiful. I laughed a little bit to myself because I just thought about how confused I would be if I took both of their comments as truth. Within a matter of seconds, I would have gone from thinking that I was hideous to thinking I was beautiful.
If I believe deep down that I am defined by what people have to say about me, then I am setting myself up to constantly wrestle with what is actually true about myself.
My mother-in-law once shared with me that there are times when we need to be rubber and other times we need to be a sponge. She said that there will be times when I hear words from people that I need to let bounce off of me and not take ownership of. At other times, there will be words people share that I do need to receive and heed. If I don't have the discernment between when to soak up words versus when to disregard them, I could very easily take hold of words and opinions that are not mine to keep.
I believe we do this a lot on social media. We are sponges to every positive comment, every follow, and every like. But because we are sponges to these things, we also soak up every unfollow and rude remark. When we believe that our identity is associated with whether we are liked and followed, we are living for the approval of people. We will post only what we think everyone will like. We will dress only how we think everyone is expecting us to dress. We will say only what we assume everyone is desiring for us to say. If we do this for too long, we will end up exhausted and unable to even recognize ourselves.
Seeking to please every human is a burden that we were never designed to carry — an expectation we can never possibly meet. This is why it is so important that we know what God says. Walking in accordance with God's Word keeps us steady in the midst of unsteady opinions.
When we get wrapped up in what people are saying about us and find ourselves willing to conform for the approval of people, we must pause and be honest about who we really want praise from. We cannot live for the approval of God and the approval of people.
Jesus said something in John 12:42-43 that catches my attention. To set the scene here, there were some authorities who believed in Jesus, but out of fear that the Pharisees would kick them out of the synagogue, they stayed quiet about their faith. In verse 43, Jesus said of them, "For they loved human praise more than the praise of God".
Wow.
This stops me in my tracks. People wanting to be liked and followed is not new. A couple thousand years ago it showed up in a synagogue and today it shows up on social media and in a myriad of other ways. People are going to like you one minute, and people are going to unfollow you the next. That is not a question. But the questions are: Does the approval of people hold more weight on your heart than the approval of the Lord? Do the words of people hold more weight than the words of God? Do you believe your worth is summed up in what people have to say about you or in what God has already said about you?
Let's all sit with that today.
– This article is written by Emma Mae McDaniel. Emma Mae is a lover of Jesus and people, an author, and a speaker. Emma travels throughout the country speaking at conferences and retreats to be a messenger of God's Word. Through social media, YouTube, and her podcast called "Have You Heard?", Emma seeks to glorify God and invest in the lives of thousands worldwide. 
—
God is the only One who gets to identify who we are. In her new book, You Are: Realizing Who You Are Because of Who God Is, Emma Mae breaks down thirty labels that women of God struggle with ― either because we think we deserve the "bad" labels or don't know how to embrace the "good" ones.
This book helps you understand that God knows who you are: You are talented and inspiring and brave; you possess both confidence and tenderness; you are protected and gentle and amazing. Interactive elements guide you to embrace your value and place as a woman of God.
Order your copy today, and leave a comment below for a chance to WIN one of five copies!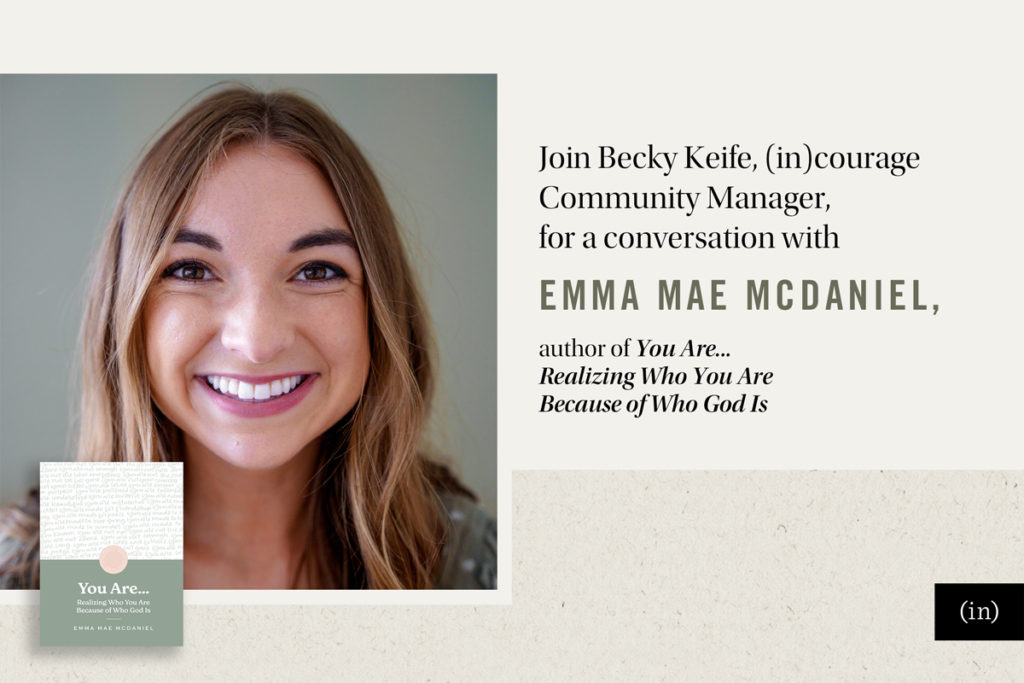 Then join Emma and (in)courage community manager Becky Keife for a chat all about You Already Are! Tune in tomorrow, 8/3/22, on Facebook and/or Instagram for their conversation.
Giveaway open to US addresses only and closes on 8/5/22 at 11:59 p.m. CST.
Listen to today's article at the player below or wherever you stream podcasts.
Leave a Comment