The email came from a kind stranger. She'd devoured my new historical mystery, All That Is Secret, enjoyed it a lot, and made a request: Could she interview me for her lovely blog? Honored when anyone wants to ask about my writing, I eagerly replied yes and worked my way down her list of questions, answering each one with detailed care.
On the last page, however, came the most important question of all: What is your book's takeaway? Its one key message for readers?
I looked at the question and squirmed. An editor at another blog had just asked me the same question. It's a question that a "real" novelist could answer at the drop of her hat. But this novel was my first fiction, and with All That Is Secret, I harbored my own secret — that, in truth, I didn't know the takeaway when I started writing it.
I was just excited to be writing my own mystery, finding it thrilling and amazing and fun, especially for me — a writer of devotionals and nonfiction books and articles. New to the mystery "game," I longed to write a riveting puzzle, making it intriguing for mystery fans, new and old, to enjoy.
Also, to be honest, as a woman of color, I wanted to write a lead character who loves Jesus and who is Black like me, navigating a setting I understand (Colorado), during an era I'd heard about my entire life — the 1920s when Colorado was ruled by the Klan.
This mix of faith and race often ends up in my writing. Some readers don't like that, arguing the topic of race has no place in devotionals or serious books about our faith. Eager to leave that fight, I decided to try writing a novel — to bring excitement, romance, history, and page-turning intrigue to a story of faith and race, but not call it that. So, I'd give myself a break. My readers, too.
Excited about this new form of writing, I hadn't seen the most obvious spiritual truth that God, in His Holy Spirit, had built into my story — using someone like me to write the takeaway that I needed perhaps the most:
God is our Keeper, so we're never alone.
Sure, I'd sweated to develop my tale about a young theologian — a fan of Sherlock Holmes — who answers a cryptic telegram, leaving her frustrating teaching job, to return home to Denver to solve the murder of her beloved but estranged father. But her takeaway, for us?
Even when we try to "take a break" from our life problems, turning even to a different ministry to write a new life chapter, God still leaves a pearl hidden deep in our plot. I'd written the book as an escape from my life's troubles and tensions. But as I dug deep to find the answer to my interviewer's question, I was stunned to discover the truth the Lord Himself had written into the heart of it:
I'll never leave you. So, with Me, you're never alone.
As the Lord told Jacob of the Bible: "I am with you and will watch over you wherever you go" (Genesis 28:15).
Will my lead character learn that for herself? I won't spoil it by revealing if or how. But as I contemplate my story's takeaway, I almost tremble at the miracle of it. I'd thought I'd written my novel. My name is on the book cover. But God wrote it first.
Even as I struggled, early on, to convince people to read a Christian mystery — including fellow believers — the Lord was keeping me, drawing even unbelievers to my humble story, watching over me and keeping me just as He watches over and keeps you, too.
Oh, to be kept by Him, indeed, even when we don't see that He is always there. A hymn declares that truth. But even before that song was written, He was singing over us, keeping us, often before we knew He was with us.
I didn't plan to show this truth in my novel, but it was written into it nonetheless. Only God could pour such grace and love into a first-time novelist's humble effort — but also into our lives. The Lord is faithful to keep us, writing our story one page at a time. May we dare to surrender our story to Him, following in His keeping love and power.
—
All That Is Secret from award-winning author and (in)courage contributor Patricia Raybon has been picked as a best in its category by Parade Magazine, Woman's World Magazine, CrimeReads website, BookBub, even Masterpiece | PBS, which named it one of seven "Best Mystery Books of 2021" as recommended by selected bestselling authors.
We're excited to give away FIVE copies of All That Is Secret! Just leave a comment telling us what it means to you that God is our keeper.
And join Patricia and Becky Keife tomorrow, 11/10, at 11:00am central on Facebook for a conversation about All That is Secret!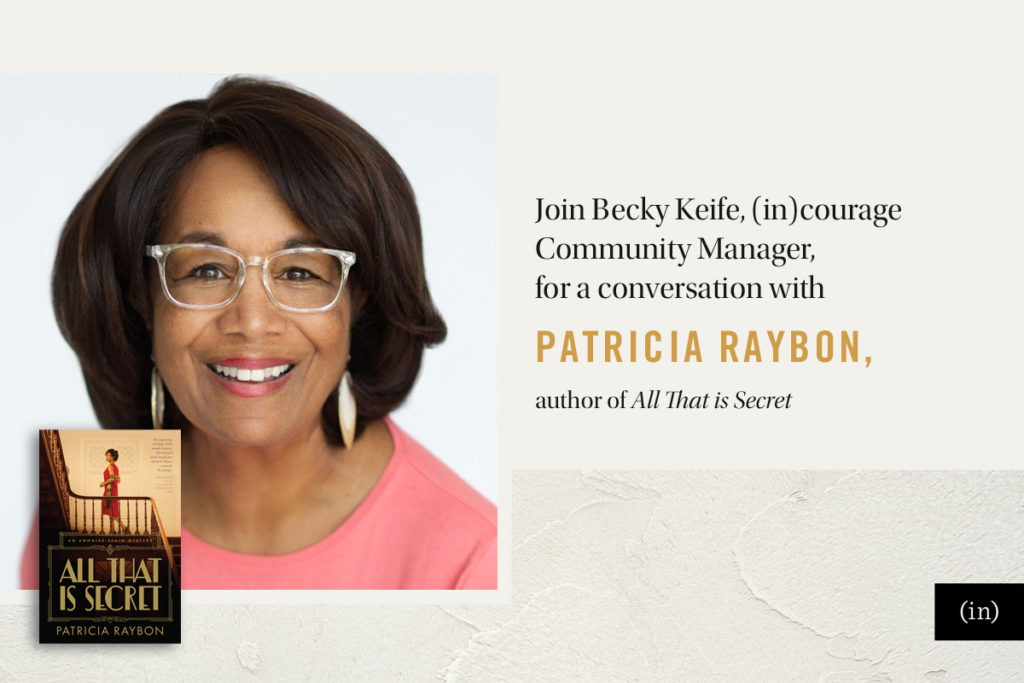 *Giveaway open to US addresses only and closes on 11/12/21 at 11:59pm central. Winners will be contacted via email.
Leave a Comment