My daughter's bloodcurdling scream ricocheted from the garage up to where I sat in my office on the second floor.
I shot out of my chair and sprinted down two flights of stairs. I threw open the door from our mudroom to the garage, calling with no small amount of panic, "Faith! FAITH! Are you okay?!" My bare feet landed on the doormat sitting just inside the garage, just like they'd done a thousand times before. And that's when I noticed a texture under one foot that in no way resembled the doormat. It was soft, kind of squishy. I looked down and in short order let out my own bloodcurdling scream as I realized I had just stepped barefoot — barefoot! — on a long snake.
I jumped backward, hollering like I was on fire, and shut the garage door between me and it.
After taking a couple deep breaths and giving thanks to God that the creature didn't bite me, I simmered down enough to collect my wits and slowly, gingerly opened the door again. The snake remained in its same position, folded back and forth on the mat like some kind of sadistic ribbon candy. I called for Faith again, and then I saw her waving from the driver's seat of the car parked in the garage. Faith, who had been outside, explained that she had proceeded to walk back toward the house through the same garage door before laying eyes on the snake. That's how she ended up screaming — as she jumped into the car. I looked back at the snake, who hadn't moved a muscle. As riled up as Faith and I had been about it, it seemed completely unfazed by us.
After double-checking the snake wasn't poisonous, I began laughing hysterically. Faith, still shut up inside the car, said she wasn't coming out till the snake was long gone.
Dramatic or not, I totally understood that life decision.
Sometimes I view the difficult change in my life — the kind I don't want and didn't ask for — like I viewed that particular snake. I'm walking along, minding my own business, and then this terrible change pops up where I least expect it, and my heart immediately drops to my ankles. Or maybe I did expect the change — after all, some difficult change is expected but still unsettling. When that's the case, it can still bring unanticipated surprises. It may also bring anything from dread to a good scare to major harm. It may bring instant panic or simmering stress. Either way, its unwelcome presence can spin me up and my anxiety right along with it, and it's been doing so since my childhood.
Prone to many an anxious thought as a kid and teen, I can still feel my daddy's arm slung around my shoulders as he'd say, "Now Kristen, just simmer down, honey. Don't you know God is with you right here, right now?"
I might've been studying for a math test or waiting on the dentist, and he would recognize when I began to panic. My daddy's kind presence reminded me of the Father's kind presence and helped my breathing to slow, my heart rate to calm, and my mind to clear. When I remembered God was near, my anxiety simmered down.
Of course, as the dad of three daughters, he sometimes also told my sisters and me to "simmer down" out of exasperation as we fought over Barbies or baby dolls or who got to sit in the highly coveted front seat of the car. But more often than not, "simmer down" became a gentle touchstone that turned me from the toxic train to truth — and helped my emotions do the same.
I'm forty-seven now, and how I wish the most anxiety-inducing event brought on by change was a cavity or a pop math quiz. But you don't get to be my age without encountering change that devastates you physically, spiritually, and emotionally.
The writer of Hebrews tells us, "By faith we understand that the universe was created by the word of God, so that what is seen was not made out of things that are visible" (Hebrews 11:3).
If God created the universe from what was invisible, then He can create something beautiful from what you can't yet see in your own life. Don't see how anything good can come from the hot mess you or your loved one is in? Can't make heads or tails of what in the world you're supposed to do next? Well, then, you're in prime location to see God make sense of the senseless that sits in your lap.
The road you're traveling may very well have a snake or two stretched across it, and the shock of its discovery may make you scream or run and hide. But hear the Father whisper, Don't you know I am with you right here, right now? He is as next to you at the dining room chair or the snoring husband or the too-empty space at the other end of the couch. And He gave us His Son to be with us till the end of time.
Let that speak the message to simmer down your anxiety. Dear one, God will resurrect and refashion your devastation into restoration.
Change may come out of nowhere, yes. But wait for the invisible to become visible — it may very well come out of nowhere too.
—
When Change Finds You: 31 Assurances to Settle Your Heart When Life Stirs You Up is an inspirational and practical book that helps us think and feel differently about change on the inside so we can live and love differently on the outside. We're excited to give away FIVE copies! Just leave a comment telling us about a time God saw you through a change.
And join Kristen and Becky Keife tomorrow, 10/20, at 12:00pm central on Facebook for a conversation about When Change Finds You!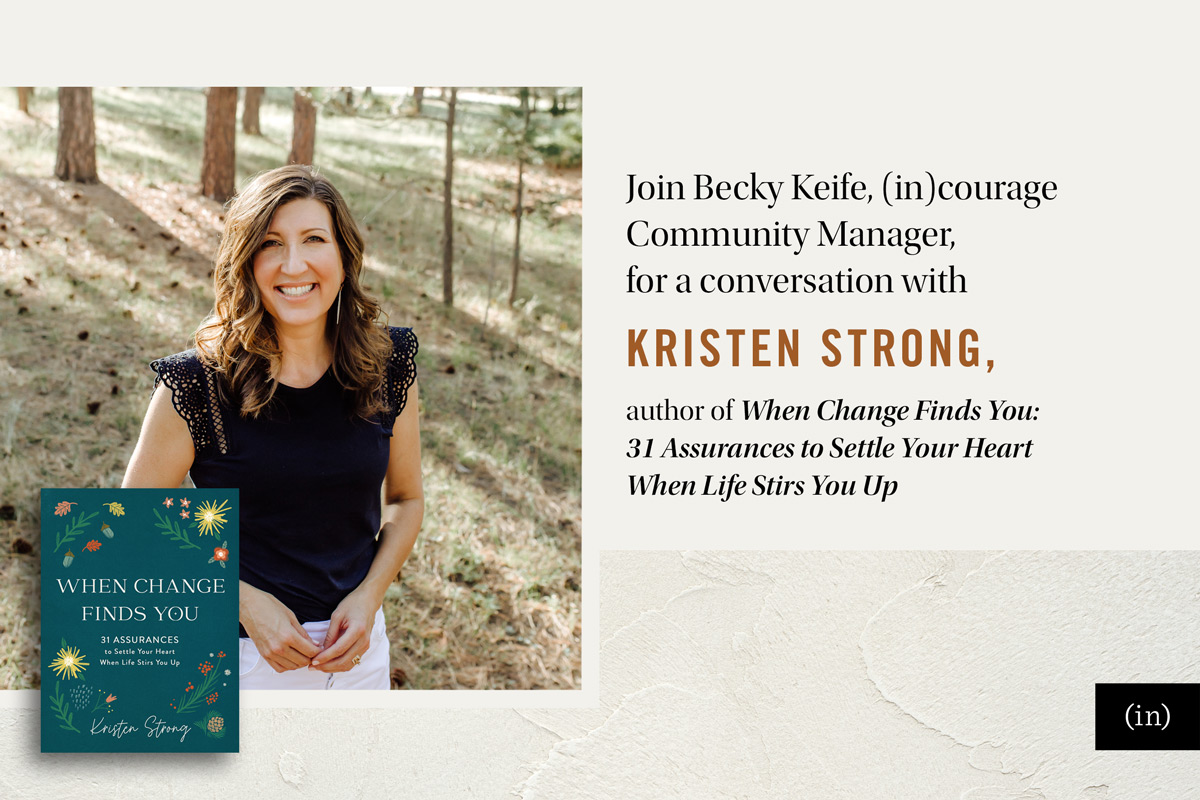 Here's to acknowledging our change, giving our anxieties over to God, and abiding well in the days to come — no matter what transitions life brings.
*Giveaway open to US addresses and closes on 10/22/21 at 11:59pm central.
Leave a Comment