I never felt truly beautiful or beloved. I thought it was something only people with perfect families in nice-looking houses got to experience. So I grew up wanting to leave behind everything that made me feel flawed and broken, and I did all the things I was supposed to do to build a life that looked like everyone else's.
I did this for a chance to be what I thought was "normal" — so I could belong, so I could be loved. But something unexpected happened: As I tried to build the life I thought I should, focused on taking care of others, I discovered I wasn't becoming whole — not even close.
Although I was grateful for everything I had in my life, I didn't feel happy. My sense of belonging didn't increase, and instead of joy, I felt lonely and uninspired. Somewhere along the way, I had lost the things that make life beautiful and meaningful, that make us come alive with beauty and joy.
Once I had my second baby, I figured it was too late for me; I was in the thick of parenthood. I decided that since we can't choose our childhoods, it was time to make the next generation's better. Just get over yourself, Bonnie, I told myself. And that is how I gave up on me.
But God didn't give up on me. One day, while looking for my son Josh's birth certificate to sign him up for preschool, I unexpectedly stumbled on my own.
As I studied it closely, it dawned on me: One day, my children will ask me where their grandpa is, and I wouldn't know what to say. I didn't know if he was dead or alive. I didn't know where he was or why he left me and our family.
When I was seven, my father left without saying goodbye. He never came back to visit. He never called. And although I'd check my mailbox on my birthday every year, secretly hoping to find a card, it was always empty.
I couldn't tell my friends about this because I thought my family life was so weird.
My mother, Ah-Ma, was a mail-order bride from Hong Kong, and my father, Bah-Ba, worked as a busboy in a noodle shop in San Francisco's Chinatown. If you asked me what my father looked like, I couldn't even tell you for sure.
I didn't have a single photograph of my father by the time my mother finished cutting up every picture of him as I sat on the floor the day my father left. She yanked the photos out of their vinyl album pockets, making sure to cut straight into the middle of his face on each image, throwing them all over the living room floor.
I learned to never ask questions about my story because Ah-Ma always shouted the breath out of my questions as I sat frozen with chopsticks in my hand, feeling as small as a kernel of rice sticking to the rim of my bowl. "What does it matter anyway?" she hollered at me.
Those were the moments I immigrated to a different kind of land, leaving my broken past behind. I tried to hide all my questions because the new land I endeavored to belong to was the land of the unbroken and beautiful. And there was no room for baggage on this journey.
As I looked at my birth certificate that day, questions that I ignored all those years came alive: Where was my father, and why did he leave?
Determined to uncover the family's secrets I ran from, I set out to find my childhood home and the father who left me.
God was taking me on a journey to make beauty out of brokenness, to find my true worth. Was I willing to make peace with my past?
As He tenderly gathered all the bruised and broken fragments I'd tried to throw away, He whispered, What no one wants, I cherish. I love every part of you. You are worth loving. You are My beloved.
Even though I didn't know what I'd find, I decided to set my GPS for my childhood home in San Francisco — for the very first time.
God was rewriting my story with His love, and He wants to rewrite your story with His love for you too. Beautiful friend, will you give God the space to fill in the blanks with His deep, healing love for you today? He sees your tender, lonely places. You are not forgotten. God loves every part of you and wants to shine His light through your stories. No pain is wasted, and He can turn your trials into testimonies — beauty out of ashes, joy out of sadness. 
God whispers to you, Beloved, You can't embrace your belovedness when you follow someone else's path. You are worthy to live your own version of a beautiful life with Me. You are worthy to be loved.
It's never too late to be you.
It's never too late to begin again.
It's never too late to be loved.
Don't hide your story; share it. What God has done in your life, that's what you need to shine. You're the only one who can tell His story in you.
Your story matters. You matter. You are beloved.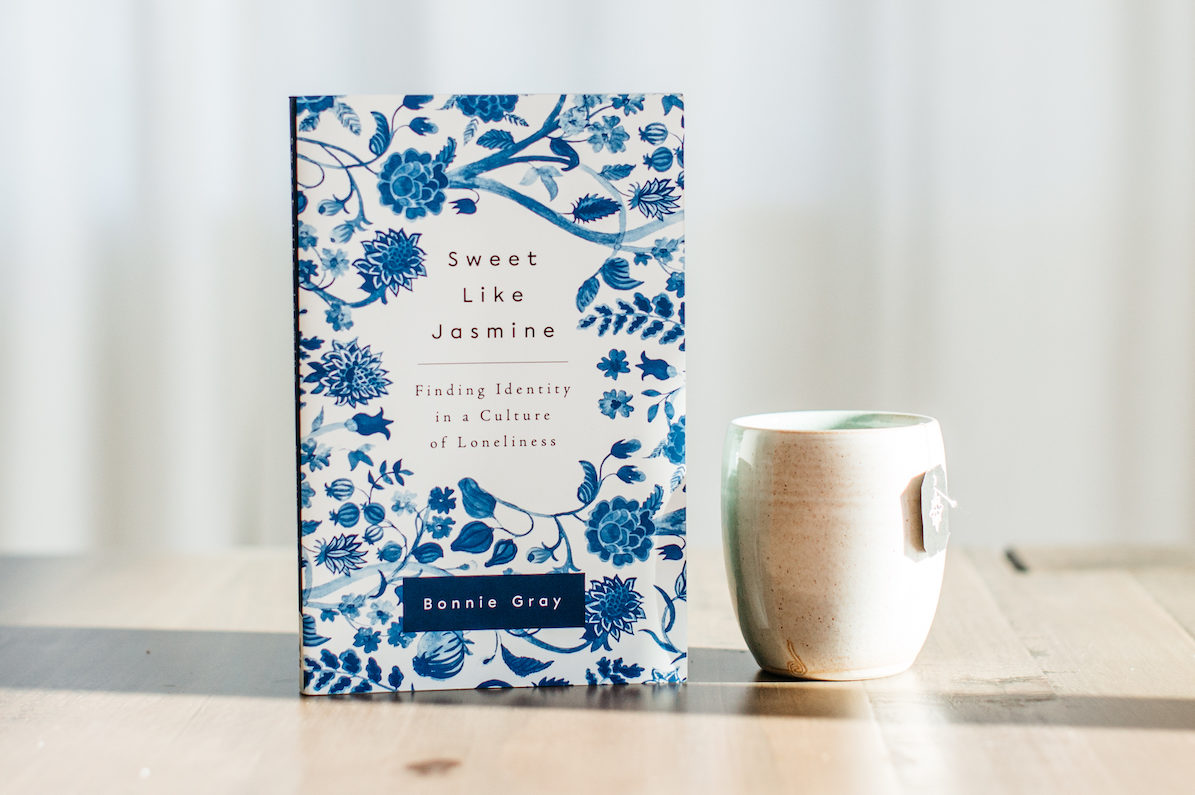 Life doesn't have to be perfect for it to be made beautiful with God's love. There is empowering encouragement on every page of Sweet Like Jasmine: Finding Identity in a Culture of Loneliness as Bonnie Gray takes you on the journey to help you draw closer to God's love and embrace your true worth! Each chapter includes Scripture to bring you peace, stories to renew your faith, and discussion questions to journal and use for your small group and book club.
Comment below and tell us something you enjoy doing that helps you feel God's love. We'll choose FIVE winners to receive a copy of Bonnie's new book Sweet Like Jasmine. Also, you can get a FREE Guided Journal with your order at SweetLikeJasmine.com!
Lastly, join author Bonnie Gray tomorrow, October 13 at 11am central on Facebook for a conversation with (in)courage Community Manager Becky Keife as they discuss Sweet Like Jasmine!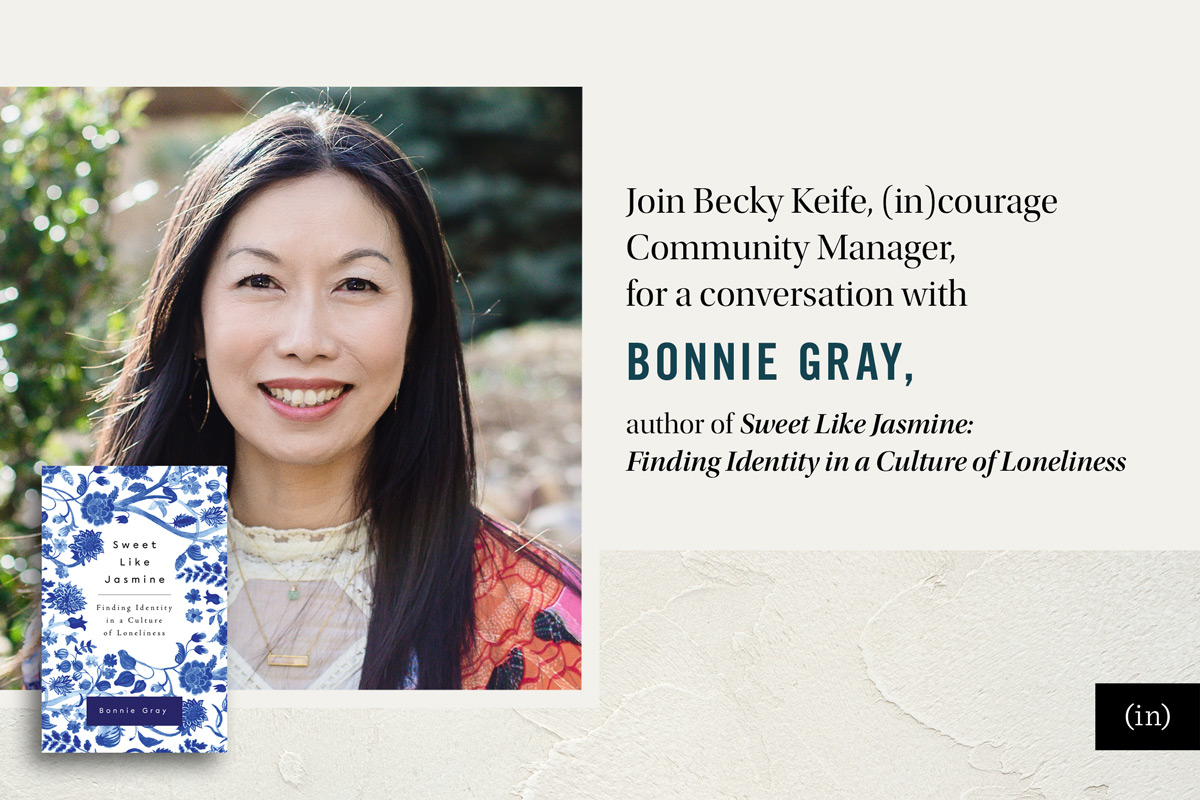 Leave a Comment