Welcome to the final Bible Study Monday in this series! We have been going through our Courageous Influence Bible Study for six weeks, and so far we've looked at:
Week 1, which began with a foundational statement: You are a woman of influence,
Week 2, which revealed that influence is about where God has placed you and your willingness to say yes to Him,
Week 3, which explored what it means to be a person of integrity in using our influence,
Week 4, which taught us to be generous with our influence, and
Week 5, which showed us how to be intentional with our influence.
Now we turn to the final chapter — Week 6, which explores how storytelling can be a powerful way of influencing others.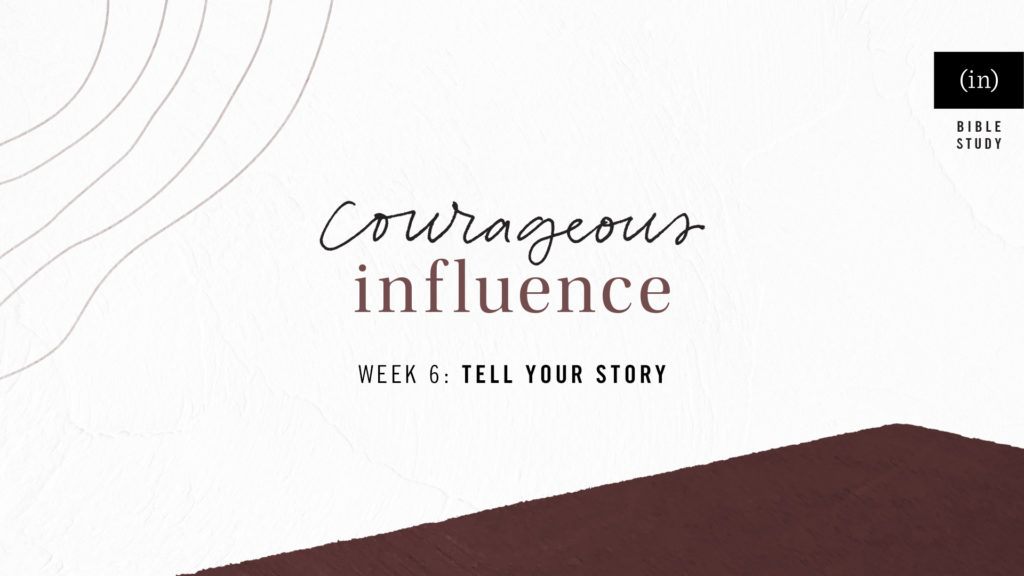 Reading Assignment
This week, read Week Six: Tell Your Story, on pages 177-208 in the Courageous Influence Bible Study. Grab your copy and start reading!
Quote of the Week
Keep this quote in mind as you read Week Six:
Each of our stories is unique to us, and they are our stories to tell.
– Grace P. Cho in Courageous Influence. Feel free to download this quote to share with a friend!
Discussion Video
Three of our (in)courage writers invite us into their conversations about Courageous Influence! Join study author Grace P. Cho along with Becky Keife and Kathi Lipp as they discuss each week of the Bible study. Listen in on their conversation about Week Six (and find all the weekly videos here):
Reflection Questions
Together in the comments, answer and discuss any of all of the following questions:
How does remembering and retelling narratives about your history and culture require courage from you?
In what ways have you found the phrase "for such a time as this" relevant to you?
Throughout the Bible, there is an emphasis on telling what God has done. Why do you think that is? In other words, why is telling our stories so important?
Let's Pray Together
God, thank You for how You've created us for such a time as this. When the time comes for us to take a stand and use our voices and our influence for the sake of others, give us wisdom and courage to lean in even when the cost is great. Thank You for loving us so much that You did the same for us. We love You, Lord. Amen.
Remember, answer the reflection questions in the comments so we can discuss Week Six together!
Friends, thank you SO MUCH for joining us throughout these six weeks of Bible study. We will be back with another series of Bible Study Mondays starting in November as we go through the Courageous Kindness Bible Study together, right here. We hope you'll join us! In the meantime, get a FREE week from each of the four Courageous Bible Studies and free leader resources.
Leave a Comment