I watched Josh's shoulders as he walked up the mountain through the fog, hoping his posture would tell me how he was feeling. Raindrops trickled down his suit coat, and I knew I would never forget watching my son climb that muddy mountain to wait for his bride.
Josh and Brandi had spent months looking for the perfect setting for an intimate wedding: a beautiful mountainous area with trails and gorgeous views where they would make covenant promises at sunset, with layered mountain ridges in shades of blue as the backdrop.
The forecast had been sunny and clear that day, but as we drove up the Blue Ridge Parkway, a thick fog settled over the mountain and rain poured from the clouds. That morning, Josh told us if it rained, we would follow each other to another parking lot, walk a shorter trail, and squeeze under a gazebo for a wedding without a view. Unfortunately, one of the grandmothers had been taken up the trail before the rain started, and now they needed to get her back down safely.
I had envisioned us all in the parking lot greeting each other with hugs and smiles. Some would be meeting for the first time as two families became one. Instead, we were all in our separate cars, staying dry for as long as we could.
My husband J.J. got out of our car to see if he could help while I sat inside shaking my head in disbelief. I silently questioned God, Why did You let this happen? You know how hard they worked to prepare for this day, how little they asked for. Sunshine was all they needed.
I wanted their wedding day to be perfect. I wanted them to feel like God was there with them, taking care of every detail. I wanted beauty and sunshine, smiles and laughter. Pouring rain and fog as thick as cotton was nowhere in my imagination.
I held my phone up to take a picture of the dreary, disappointing view when it hit me: God knew this was how it would be. God knew exactly what their wedding day would look like. It seemed so obvious, but it shifted something in me. I didn't understand it or like it, but it wasn't up to me to fix it and I didn't have to resent it.
J.J. knocked on the car window, jolting me out of my own personal fog. He told me Josh decided we were going up the mountain but not all the way to the top. We would walk up the trail together until he found a clearing. Brandi and her dad would wait in their car until the rest of us were in position and ready for the ceremony to begin.
Following behind my son, I noticed how deliberate he was with each step. Eyes on both the path and the horizon, he looked for an open area where we could all fit.
Their wedding day could have been marked by unmet expectations. But instead, a deep sense of unexpected hope met us somewhere between disappointment and trust.
Less than halfway up the mountain, Josh stepped into a wide-open space, and we all stopped. Thick fog rested on the outer edge of the clearing, but we all stood under a covering of light as the sun filtered through the canopy of trees. A small waterfall trickled down rocks to our left, and a huge knotted tree root lay across the forest to our right.
Standing on the edge of rocks, surrounded by mud, greenery, and intertwining branches and roots, we listened to a violin play the bride's procession and waited as Brandi walked up the mountain through the fog. It was a wedding unlike any other, in a setting their Creator had chosen and designed just for them.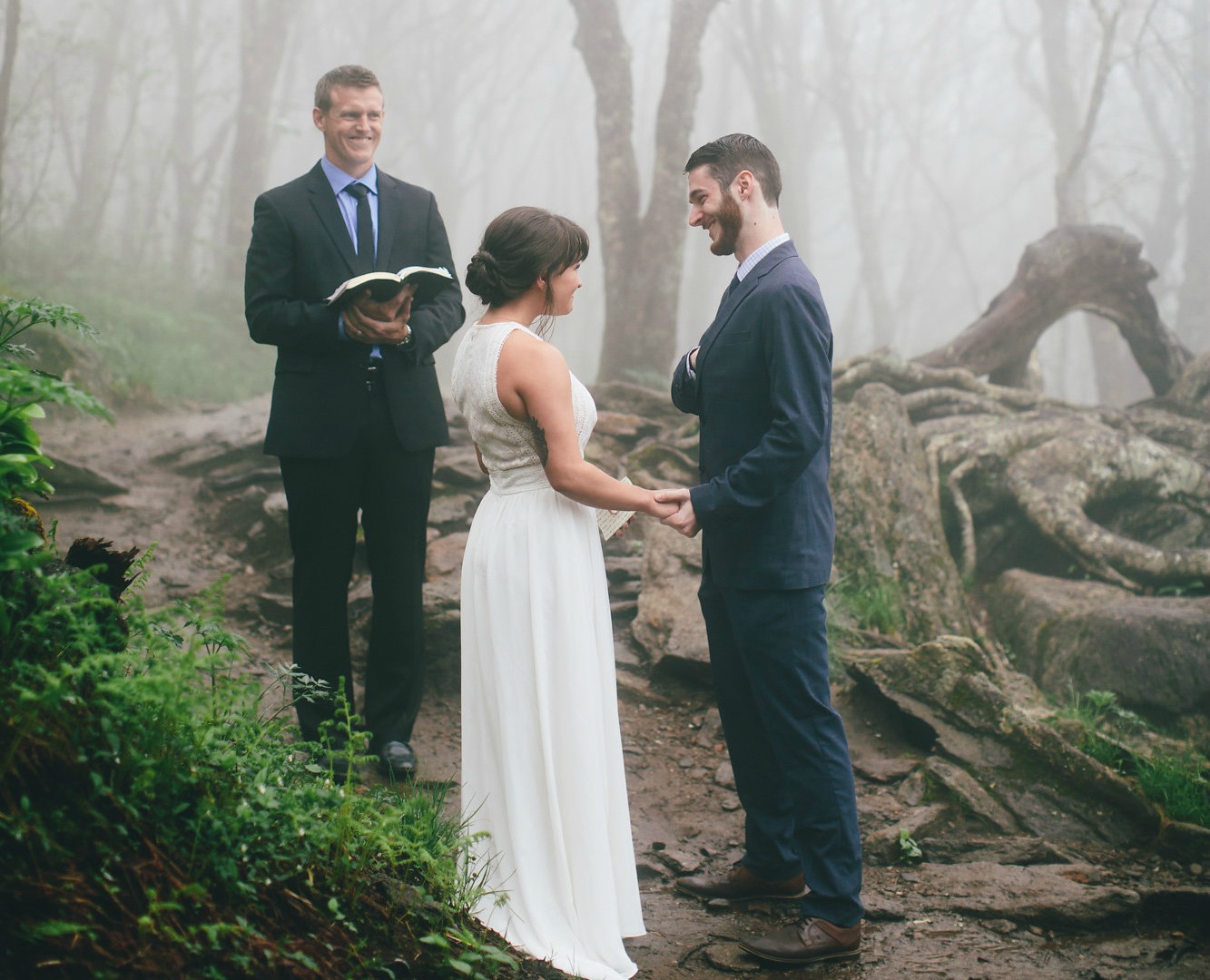 As they stood beside gigantic roots of an ancient tree with beautiful bark woven together by the hand of God, our pastor read the scriptures Josh and Brandi had chosen weeks before, sacred words they wanted read over them and their marriage.
I pray that you, being rooted and established in love, may have power, together with all the Lord's holy people, to grasp how wide and long and high and deep is the love of Christ, and to know this love that surpasses knowledge — that you may be filled to the measure of all the fullness of God. Now to Him who is able to do immeasurably more than all we ask or imagine, according to His power that is at work within us . . .
Ephesians 3:17-20 (NIV)
Though it was not what they planned, it was more than they could have imagined. Yet it came in the midst of deep disappointment and surrendered trust.
That's where I need to be today as I sit in the thick of deep disappointments and painful injuries. A severely pulled muscle abdominal muscle, a hidden yellow jackets' nest in the ground and five stings later, a husband who smashed his thumb in the car door and a daughter with a fever, a hole in the subfloor of the home we just bought, and a vacation we planned six months ago that we're supposed to leave for tomorrow.
Jesus wants me — us — to trust Him in all of it. He wants us to know He has not abandoned us. He has gone before us. But we won't get to experience what He has for us if we hold a death grip on what we planned for ourselves.
Trust looks like one step after another up a muddy mountain of disappointment, believing God has created a clearing up ahead. We take the steps; He makes the way. Somewhere between our disappointment and trust, God slowly reveals that His presence is with us. And He is working in ways we may not yet see.
Photo Credit: David and Sarah Whitlow, Two Cents Photo + Film
Leave a Comment