Friends, we have some BIG news for you today! It's been a long, long time in the making, and we couldn't be more excited!
You know you can join us daily here at (in)courage for a new article everyday from one of our thirty contributing writers. They share their unique stories — joys and struggles equally — for the purpose of pointing others to the eternal hope of Jesus Christ. This is what it means to be (in) community. We're always better when we make time to gather, listen, and learn together. And now . . .
We can do this via podcast!
Yes! The (in)courage you know and love — the virtual living room where we pile together on the couch, lounge in comfy chairs, sprawl out on the floor, and create a comfy circle of sisters who are always ready to shift and smoosh together to make space for more — is now a podcast! Cue the confetti because it feels like a party over here!
New episodes will drop on Thursdays, so subscribe today wherever you listen to podcasts so you don't miss a minute. Yep, you can find the (in)courage podcast literally anywhere! Open your favorite podcast app, and listen to the trailer today — or you can find it right here at the very end of this article. Easy, right?
To kick off our podcast, Season One will be all about what it means to live with courageous joy. Because seriously, who doesn't need more joy in their life right now? Becky Keife and Mary Carver will be bringing you funny and vulnerable conversations as they discuss their way through our Courageous Joy Bible Study. They'll be joined by some dear friends along the way, who will share their honest stories of what joy looks like in their lives. Written by Mary and featuring stories from other (in)courage writers, the Courageous Joy Bible Study looks at what God says about real joy — even when life gets hard.
If you love (in)courage, you're going to love this podcast! These are the conversations we have every day on our website and social media, in our books, devotionals, and Bible studies. And now we're bringing what thousands of readers love about (in)courage to podcast listeners! Ta-da! (Can you tell we're just a little bit excited?) 
So friends, we're ready to celebrate BIG time with a BIG giveaway! Leave a comment on letting us know how excited you are about the (in)courage podcast, and you'll be entered to win an AMAZING (in)courage prize pack*!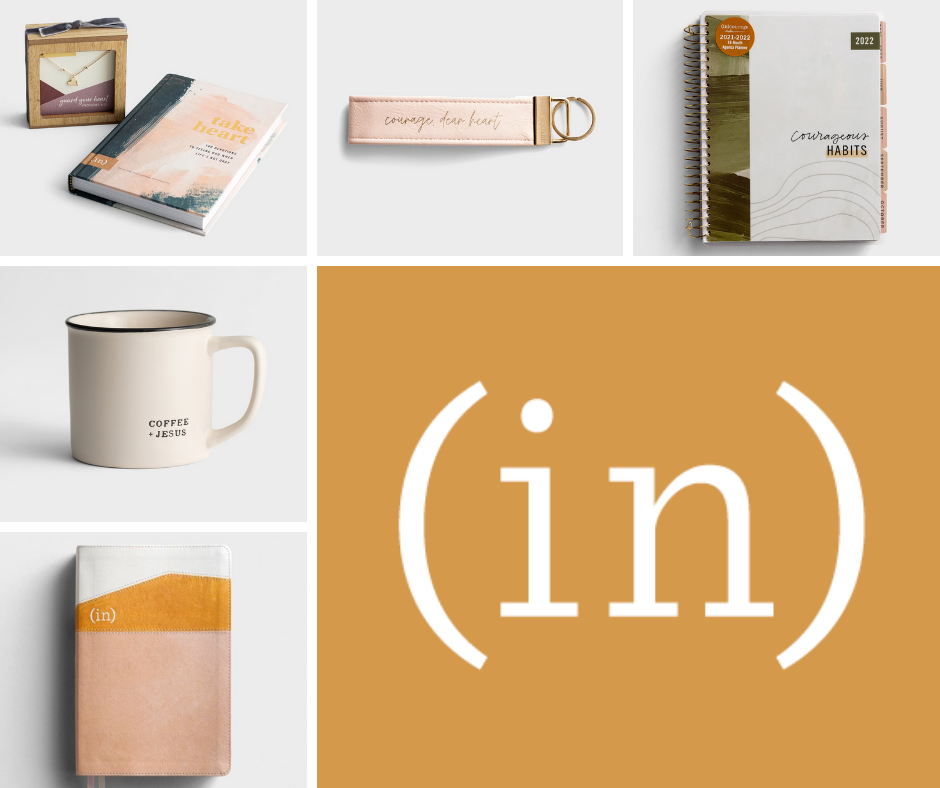 This is the ultimate (in)courage gift bundle, and includes:
(in)courage CSB Devotional Bible
2022 (in)courage Courageous Habits Planner
(in)courage Take Heart Necklace and Devotional Gift Set
Courage, Dear Heart keychain
Coffee + Jesus ceramic mug
Leave your comment, and you'll be entered. Now friend, put your feet up, listen in, and know that you've found your place. Consider yourself officially welcomed to the podcast version of the (in)courage living room. The door is open and you're invited in. 
*Giveaway open until 11:59pm Central on June 24, 2021. Open to US residents only. Winner will be chosen randomly and contacted via email. 
Leave a Comment