On a recent morning I told God I wasn't fine. Nope, I was tired of stupid COVID-19. Frustrated over being far away from my family. Grieved over people being mean on social media. Maybe you can relate?
I used a roll of toilet paper as tissue because that's what we do in our house (so if there's another shortage not only will I not be able to pee, I won't be able to cry properly either). I got up and paced across the room. At one point I paused to read the little canvas sign on my desk I've had for a decade now. It says, "She knew that many were the plans in her heart but that God's purpose would prevail" (based on Proverbs 19:21).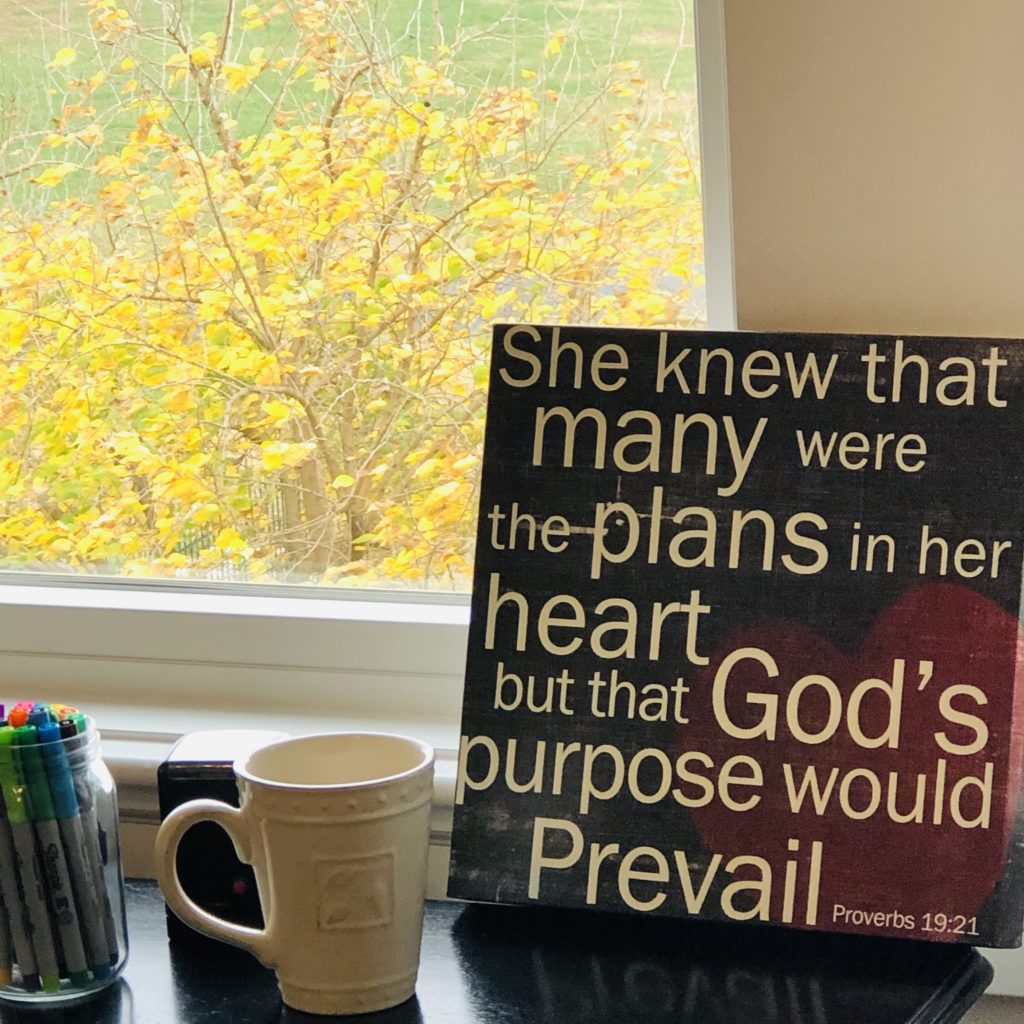 Did I still know many were the plans in my heart but God's purpose would prevail? Right now in this moment? True confession: The past year has been hard on my faith. I've wrestled with questions, struggled with doubts. I've said to God more than ever, "I don't get it" and/or "I don't like it."
I talked to someone recently who implied I wasn't supposed to have doubts or certain emotions. It upset me so much I had to leave for a few minutes and go for a walk to calm down. As a licensed counselor, I've studied the neuroscience behind what we feel and why God biologically created us with emotions. They aren't good or bad; they're simply messengers. (Even anger, which is often criticized the most, tells us there's been an injustice, a goal blocked, or value violated.) It's what we do in response to our emotions that matters.
Also, I've struggled with anxiety and depression throughout my life. In 2018 and 2019 I had a season of remission — my longest ever. But with all that's going on in this world, I've had to fight harder than ever not to relapse. I'm still standing, but I've not won the battle every day. Statistics say I'm not the only one, that a third of Americans are experiencing clinical levels of anxiety and depression right now. Really, considering all we're going through as humanity, it's understandable. Sometimes we can do all the right things, but life happens and we struggle.
So when I asked myself, "Do I know that many are the plans in my heart but that God's purpose would prevail?" what I really meant was, "Do I feel this way today?" The honest answer? No. Not at all. I felt weary, confused, a bit lonely, anxious, and like I just wanted a cookie.
And that's okay. God knows our emotions are complex. He built our brains, breathed life into our fallible human bodies, gave us a fight-or-flight response. The way we feel isn't proof of whether or not our faith is real. (Although it might be proof we need a nap.)
What was proof of my faith? That I was ugly-snot-crying into toilet tissue telling God I didn't understand what the heck He was doing and furthermore that I wasn't sure I liked it and maybe He could just hurry up and fix the whole world, starting with me. (It seems the Psalmist often did the same, only with fancier words and no toilet tissue.)
The word "know" in Scripture is often deeper than intellectual facts; it's about intimacy. It's about vulnerability and laying ourselves bare, holding nothing back. So, in that sense, the answer to my question was "yes." Somewhere deep down I still knew, still believed God wasn't done with the world or me yet. I think you do too — even if right now you're wiping away tears, yelling at the sky, dodging doubts, or your soul feels as numb and unnerving as a foot that's fallen asleep.
It's okay to have whatever emotions we do, or none at all, but there's one thing I don't want us to embrace: shame. Shame over our anxiety and depression. Shame over our "lack of faith." Shame over how we can't get stuff done. Shame that comes from thinking we must be the only one.
We're in a hard place, all of us, and we're going to make it through. We're going to heal, regain our strength, even dream again. But right now we're still in the messy middle. So for one more day we fight on, cry, laugh, yell, pray. Because we know, we still know that many are the plans in our hearts but that God's purpose will prevail.
Leave a Comment