We are so excited, friends, to start off this year steeping our hearts and minds in God's Word, and we hope you'll join us! Starting February 1, we invite you to join us as we journey through God's Word. We'll dig into Courageous Simplicity, the first of four Bible studies coming this year from (in)courage. There will be interactive discussions, videos from our devotion authors, and more!
A life of simplicity, an un-frazzled mind, and a contented heart come not from what the world tells us to pursue but from trusting God. When we focus on Jesus rather than on what others are doing or thinking, we find a simpler life that allows us to rest and be at peace with who we are. Inner simplicity comes when we stop seeking wisdom in our own eyes or in the eyes of others, and start seeking wisdom from the Lord.
Courageous Simplicity: Abide in the Simple Abundance of Jesus is about learning to fix our eyes and our lives on Jesus Christ. On our own, we can't do enough or be enough, but with God, we have everything we need. As you train in the spiritual practice of simplicity, you will discover the God who loves you lavishly and wants to show you how to live with a heart open and surrendered to His presence.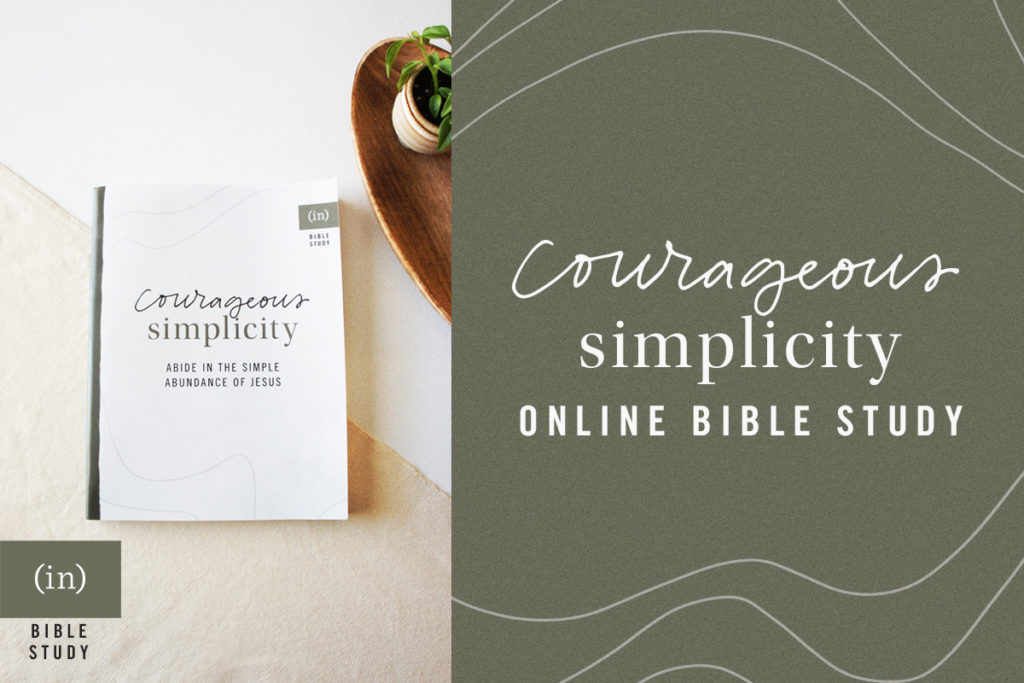 Here's what you need to know:
1.  You will need a copy of Courageous Simplicity to participate in the study.
2. You'll also need to officially sign up for the study — just click here to register, and when you do we will send you the first week of the study for free!
3.  The study starts February 1, will run for six weeks in a private Facebook group, and will consist of readings, discussion, and weekly videos. Sign up and watch your email, especially on January 22nd when we send out the link to the private Facebook group.
4.  There will be a weekly email recap sent out throughout the study, so if you do not have Facebook, you're still able to access the videos. Share this page with your friends (with or without Facebook) so they can study with you!
We can't think of a better way to dive into 2021 than by reading God's Word with friends! This is where women are changed, empowered, and set free! This is how God equips us to courageously live out our calling as His daughters — by allowing Scripture to sink deep into our hearts and the Holy Spirit to transform our lives, one day at a time. Digging into Scripture together — with real-life friends and sisters from around the world — makes it that much sweeter.
We so hope you'll be a part of this special online Bible study — sign up here!
Leave a Comment