I was thirty-eight years old when Barry and I got married. Because of my age, we took the business of getting pregnant very seriously, but as happens to many women, each passing month was disappointment after disappointment.
For the first time in my life, I found myself longing for a child. I prayed and prayed, and when it finally happened, I was so surprised at the positive sign on the pregnancy test that I dropped it!
The first few weeks of my pregnancy were a blur of absolute joy. At our sonogram, we learned we were having a boy, and we couldn't be more excited.
Then one day, we received a phone call that interrupted our happiness. Our doctor told us to come to her office to discuss the results of the amniocentesis test I had taken because of my age.
I'll never forget that day.
We sat on one side of her desk as she sat on the other with a brown folder in front of her. I don't remember everything she said, but I do remember this: "Your baby is incompatible with life." Barry and I sat in silence, stunned. I stared at her as if she were speaking a foreign language. Then she said something that snapped me back into reality. She recommended performing a termination the following day.
"No!" I said vehemently. "Absolutely not! This little one will have every day God has planned for him to live."
After that day, I didn't know how to pray. I'd asked God for this little one, and now he might be gone before I could even hold him. Over the next few weeks, I cried countless tears. Then, during one of my early morning Bible reading times, I read the parable of the persistent widow, and these words stuck with me:
One day Jesus told his disciples a story to show that they should always pray and never give up.
Luke 18:1 (NLT)
I drove to the beach that day, thinking about these words. The beach was deserted with only the seagulls as my companions. Taking my shoes off, I walked to the edge of the water and prayed like I'd never prayed before — out loud to the wind, the waves, the birds, and to my Savior.
Jesus! My heart is aching. I don't understand this at all, but I just want to declare here and now that we are in this together. I've always needed You, but right now I need You more than I ever have. I don't know how this will end, but I'm not letting go of You for one moment. You didn't promise me happiness, but You did promise You would never leave me.
Something shifted in me after that prayer. I had no idea how long I would be able to carry our son, but my prayers became relentless — not for a perfect outcome but for the presence of the perfect Father.
In my thirty-fifth week of pregnancy, my doctor called to tell me she'd made a mistake. Another patient's result went into my chart and mine into hers. Now every year on my son's birthday, I pray for the other mother who got a very different phone call than mine.
I don't know what kind of battle you're facing right now, dear sister. It may be for a child, your family, your marriage, your health, or your very sanity, but I want you to know this: When we pray and refuse to give up, our circumstances might not change, but we're changed by the love of our Father who never lets us go.
Lord, You know the burdens we're carrying. Sometimes we're tempted to stop praying because we don't see the answer we want, but today we choose to believe You love us and You are listening. So we will pray and never give up. Thank You for never giving up on us. In Jesus' name, Amen.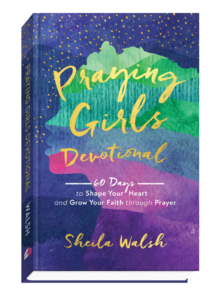 Sometimes this whole prayer thing can be overwhelming. How do you pray? What should you pray about? And why does it matter? In Praying Girls Devotional, bestselling author Sheila Walsh offers you an exciting guide to begin a life of prayer. She helps you learn to talk to God in a simple and honest way, how to pray when you don't know what to say, that God is listening and that no problem is too big and no prayer too small, and that prayer is a powerful weapon for every girl.
Every moment spent with God is a moment spent on the most important relationship of your life. With Sheila's help, you can start your lifelong conversation with God right now.
Are you in need of a guide for prayer? We want to give FIVE of you a copy of Sheila's book to help you get started. Comment below for your chance to win!
Giveaway closes at 11:59pm CST on October 30, 2020. Open to US addresses only. Winners will be notified by email.
Leave a Comment