About ten years ago, I was running a very successful professional sports agency and doing national television on a regular basis. I was traveling around the world as a speaker and promoting my new business book that had hit #1 in the Women & Business category. To top it all, I was newly engaged to a man that seemed to be Prince Charming and getting ready to become a bonus mom to his three children. I was on cloud nine — so much so that I closed down my agency, which was the fastest growing, female-owned sports agency in the nation, for love!
My fairytale turned into a nightmare six days before my wedding when I found out that my fiancé was cheating on me — talk about a rude awakening! Not only was I heartbroken, but I became broke too. After studying Isaiah 48:21, I found myself in the middle what I now refer to as a "split rock" moment — a place of divine disruption. Isaiah 48:21 reads:
They did not thirst when He led them through the deserts;
He made water flow for them from the rock;
He split the rock and water gushed out.
Isaiah 48:21 (NIV)
The rock here represents a hard place where we feel abandoned and when circumstances seem impossible to survive. But through my pain, I've learned that what seems to be meant to destroy you, is actually intended to develop and deploy you.
New life, like streams of living water, flow from difficult places. We'll never really know why things happen the way they do. But I do know disappointment and disruption get our attention and open us to divine reinvention. God is not out to punish us, but I am certain He takes every opportunity, no matter how messy, to prepare us.
Perhaps disruption has landed on your doorstep too. What appears to be happening to you is actually happening for you because of something greater within you. Disruption is an invention to shift into a higher dimension of purpose and calling. The shift may not have been caused by God, but it can certainly be used by God to catapult you into destiny.
Adversity comes to align you with a greater version of yourself that God has been trying to unleash for far too long. Disruption detaches us from who we think we are so that we can become who we were really made to be.
Let's just go ahead and be
what we were made to be . . .
Romans 12:6 (MSG)
As I rebuilt my life, going from stuck to building a successful company and finding new love again, I realized that every woman will experience disruption. It's not a sign that you're broken. It's actually proof that God is building something magnificent in you that will bring forth His glory.
As I started working with women to help them reinvent their lives, I've found that each of us has a unique mission and message, and I noticed a pattern that I call the Five Stages of Divine Reinvention and Purpose or The Purpose Map™.
When we look at our lives, we see a mess. However, God sees a map. The map shows us where we are on the purpose journey and makes clear that we are all called to impact and influence. No one is exempt. Most never make it out of stage two, but it's time to change that. God calls us to reinvention, not retirement. Here are the five stages:
Stage 1: DISCOVERY. This is where we're taught the do's and don'ts of life and where we learn to shrink, settle, and play it safe. We ask the question: Who I am supposed to be?
Stage 2: TALENT. We pick a lane, start climbing the mountains of success, and master wearing masks that cover up who we really are. We ask, Who did I decide to be?
Stage 3: THE GAP. Disruption or simply discontent flip our life upside down, and we find ourselves in a wilderness — an in-between place of transition. We're trying to figure out who we really are, what we really want, and what it'll take to trade success for significance and let go of what no longer belongs. We ask, What is happening to me?
Stage 4: GIFTS. We uncover untapped potential, life-changing gifts, and our ultimate superpower — our voice. We ask the question: Who was I really designed to be?
Stage 5: INFLUENCE. We step into our life mission and the bigger impact we're here to have. We are all called to lead. Finally, we ask, Where am I now being led to lead?
No matter where you are, know that you are indeed on a necessary path. Disruption makes room for us to experience a fresh indwelling of the Holy Spirit and God's restorative power in such a special and intimate way.
I raised you up for this very purpose,
that I might display my power in you and
that my name might be proclaimed in all the earth.
Romans 9:17 (NIV)
In the middle of pain, purpose is calling. There is a mission with your name on it. You must believe bigger to perceive it and seize it. And when we change the way we think, we change the way we live and lead others to do the same.
---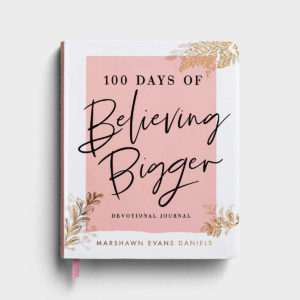 One of the best ways to discover what God has for you is spending time in God's word, and Scripture-led journaling is an intimate way to hear what the Holy Spirit has to say to you. 100 Days of Believing Bigger is a devotional + journal designed for women who seek to live out their full purpose and believe God for the impossible. Each daily devotion revolves around four pillars: Scripture, Reflection, Journal Prompts and Simple + Bold Prayers. It's time to uncover the truths about who you are, why you matter, and what you are here to do.
Click here to purchase. And for an extra copy to give to a friend, tell us whom you'd like to give it to in the comments below — we'll select THREE winners!
Giveaway closes 9/25/20 at 11:59 pm CST. US addresses only.
Leave a Comment