I gave in to temptation and colored my hair right before bed. 
And then at 11 o'clock P.M. I washed my hair 37 times because hair color called Espresso is named that for a reason.
Why are people like me allowed to use chemicals? I mean, removing a mattress tag is punishable by law, but applying toxic dye to our head at our bathroom sink is A-okay?
I fell into bed with my damaged pride and slept fitfully. When the alarm sounded the next morning for church, I was still in a bad hair mood with a tingly scalp, a stiff neck and a-gone-to-bed-too-late hangover. I went back to sleep. Yes, I skipped church because of hair. Please, don't judge.
The house was sluggish until after noon, our regular routine turned on its side.
What started out as a simple "don't do that" to one of my kids ended up in a full blown tantrum. We generally handle these in stride. But I was cranky and we let our child's behavior turn a rocky parenting moment into marital strife because we disagreed on how to handle the blowout.
Please tell me you've been there. 
Just like that, our day went from lazy Sunday to the END TIMES if you know what I mean. While my husband and I retreated to our bedroom to try and get on the same page, I could hear my kids arguing in the other room.
The tension in our house was thick. And these are the moments, I am weakest. I feel most inadequate in every area of my life when I feel most human. And in those moments, I feel like one big failure.
But even that reminder can fall short on the bad days.
We said our "sorry's." Again.  Because it's still the only way to start over even as the sun is setting. But we just couldn't seem to get along or get it right all day.
I wanted the day to end because sometimes it feels like you can't wait for those new mercies in the morning. I just needed them now.
Everyone was scattered, reading and doing their own thing, and I longed to have a do-over, and I'm not just talking about my hair.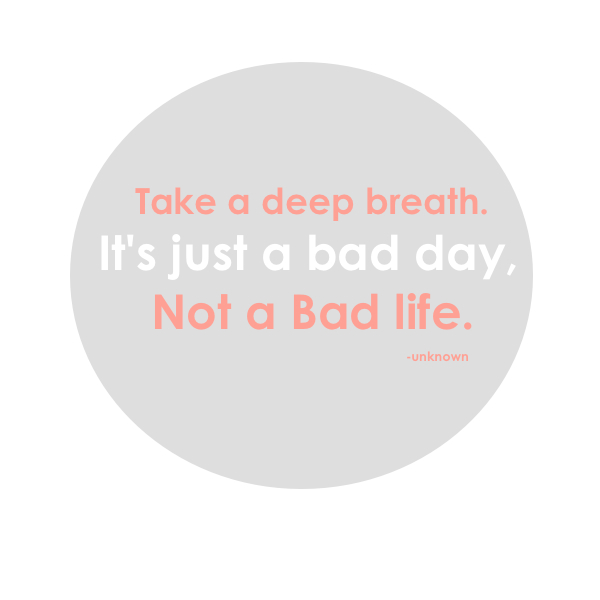 "Can we just pray together?" I asked my husband with tears right on the edge of spilling over. And what I really meant was can my family just pray with me, for me?
We piled up on our bed, too many legs and arms and too little space and we held hands. It was an awkward Little House on the Prairie moment for sure. But no one pulled away or complained. Our kids could feel the tension and they wanted a do-over as much as we did.
Our youngest asked if she could pray first. Bless her. And then my husband led us in a simple prayer. I couldn't hold my tears then because this is what I needed. Just knowing we are in this together, and although we fight together, we love together.
My teen daughter rubbed my hand when she saw my tears and whispered, "It's okay, Mom." I nodded.
Because now it was.
So, what do we do with those bad days? We let them go. And we start anew, not with perfection in mind, but forgiveness and love.
And we decide the color Espresso isn't so bad after all.
[linebreak]
Share on Twitter:
So, what do we do with those bad days? We let them go. And we start anew. {Tweet this!}
Leave a Comment