When my husband and I bought our second house, it was a fixer upper.
Which is a nice way to say we bought a dump. 
The weeds in the backyard were taller than I was on tiptoes, the walls were peeling, the bathrooms were stained, the appliances were broken and the carpet was scary. And that was just the beginning.
But as ugly as it looked on the surface, it was ours.
And that made it pretty special. Or ugly special, whatevs.
One night after my husband repaired shelves in the master closet, he rehung all of our clothes on the rod. He moved on to the next project on our list, which happened to be sitting on the sofa because home repair is exhausting. Just as we sat down, we heard a horrific crash. When we opened the closet door, not only had the rods come out of the wall, so had the, um, wall. Huge holes were not exactly functional.
I wanted to cry. And did. I was 9 months pregnant and our air conditioner was about to break, the new church job wasn't a good fit and so the broken closet fit in perfectly with all the brokenness around me.
It seemed like everything we touched crumbled.
The more things fell apart the more we fell into Jesus.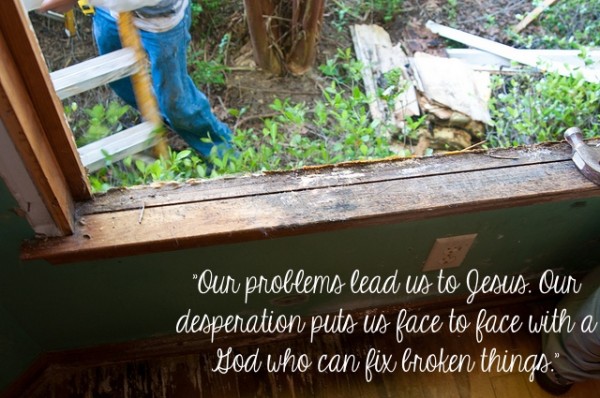 That was more than ten years ago and I can see now what I couldn't then: every ounce of sweat equity we poured into that house would pay off when the market spiked and provided enough money for us to start over. Every tear we cried in that hard place would propel us into a better one.
We can't see where today's problem might lead us. Or what good may come of our current struggle.
But we can trust this: Our problems lead us to Jesus. Our desperation puts us face to face with a God who can fix broken things.
He is the storm calmer. He is the cleft in the rock. He is our strong tower in the battle. He is. There.
I don't know what you're facing today. You may need more money than you can imagine, more healing than doctors say possible, more answers for your questions. You're on the path to God. Because when we can't, He can.
So, first, thank Him for the problem. Then ask Him to show you a way out. When we focus on Christ instead of the tough spot we're in, it might not change our situation immediately, but it changes us. Which is even better.
Written by Kristen Welch, We are THAT family
Leave a Comment