"You inspire me" she says as she hands me a bag full of baby clothes for Mercy House. "I wish I could be like you, but I'm just a mom."
Her words sounded like an apology.
I offered a feeble smile.
Because at the moment, I didn't even want to be me.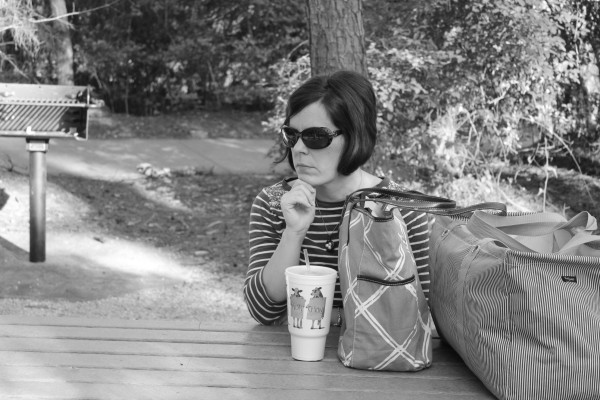 I was still beating myself up over how I started the day. Before 9 am, I'd lost my temper with my kids. I was rude to my husband and irritated with, well, the planet.
When the house was finally quiet and I'd said my "I'm sorry's" I put my head on my desk and cried. I knew my family would forgive me, they always do. But I have the hardest time forgiving myself.
But this is me: a tangled mess of humanity-more failures than successes.
This is what I really wanted to say to that sweet mama, ten years younger than me, standing at my door, looking in my life, like I had it all together:
I need you to see me, really look at me. I'm no different than you. I'm a mom and wife and sometimes I not very good at either. I have dirty piles of laundry that match the dirty places in my heart. Even though I said yes to a dream much bigger than myself, I struggle everyday trying to find God in the mess. And sometimes that mess is me.
It's okay to apologize for what you've done, but not for who you are.
I think we look at people doing something brave and we tell ourselves, we could never do that. I've said the same thing to myself a dozen times. I truly believe this is a lie that is meant to discourage us and keep us paralyzed.
When we maximize others, we minimize ourselves. In God's eyes, we're all the same.
So, when someone calls me brave or inspiring, especially on days like today, I feel like such a failure. Not just for my obvious mistakes, but for making it appear that I'm something I'm not.
I hope my ugly humanity challenges others to do something extraordinary for Him.
Because if God can use me to inspire another mom while I'm deep in the trenches of motherhood, He can use anyone.
Print this out and tape it to your bathroom mirror:

I am His.
I am enough today.
My mess is the perfect place for His Glory
by Kristen Welch, We are THAT family
Leave a Comment