In our divisive and unforgiving world, we need mercy more than ever. When we extend grace toward one another despite faults, mistakes, and differences of opinion, we model the kind of long-suffering patience and love that God shows toward us. But how do you cultivate a merciful heart in the midst of a culture where everyone seems quick to judge and slow to forgive? Where do you begin?
Meet Create in Me a Heart of Mercy, the newest (in)courage Bible study and final in this series, written by Dorina Lazo Gilmore-Young and featuring stories from your favorite (in)courage writers. Scroll down for details + a FREE full week and online study from Create in Me a Heart of Mercy! Order your copy today at:
And add to your 'want to read' shelf on Goodreads!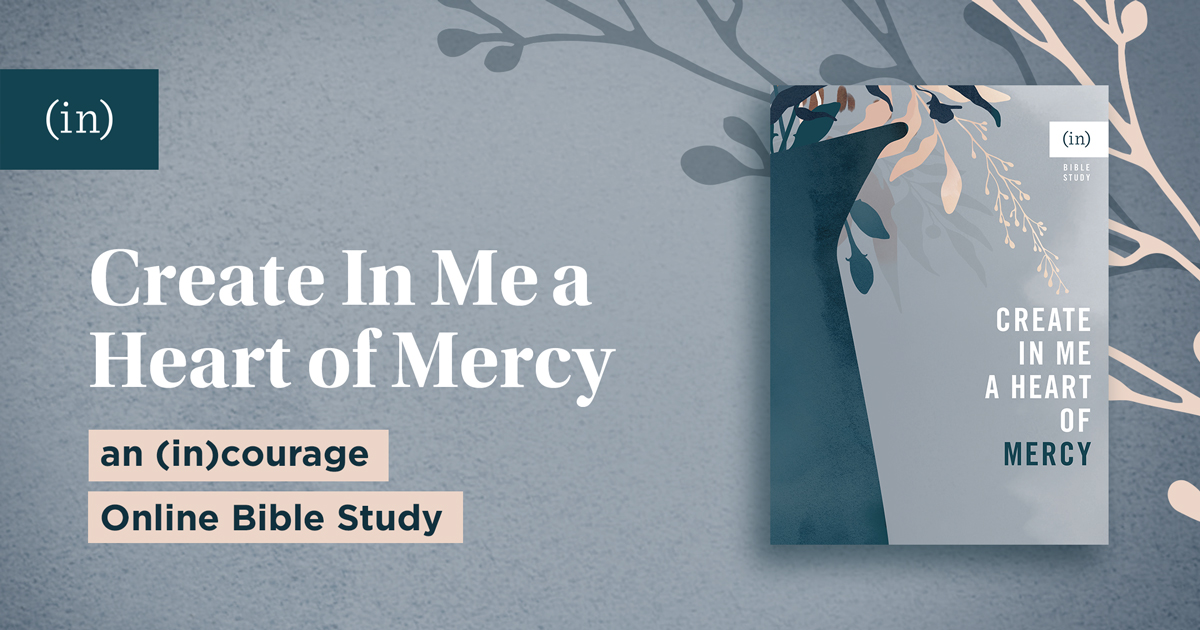 Let's seek a heart of mercy — together. Sign up below and get a FREE week from Heart of Mercy!
Sign up for an Online Bible Study through Create in Me a Heart of Mercy and get a FREE week from Heart of Mercy + printable Scripture memory cards! Starting June 19th, we'll email you each week with everything you need to go through the study for six weeks this summer including reading assignments, memory verse lock screens, teaching videos from author Dorina Lazo Gilmore-Young, reflection questions, and more.
Get your FREE week + the Online Study!
THANK YOU.
Your first email is on the way.
* PLEASE ENTER A VALID EMAIL ADDRESS
Signing up will get you the free gifts + online study and occasional emails from (in)courage. You can opt out at any time.

A Bible Study to Help You Receive and Extend Christ's Mercy
Create in Me a Heart of Mercy is a six-week Bible study packed with relevant observations, applications, daily prayers, and Scripture memorization. Perfect for individuals or small groups, this study will help you:
discover

 the transformational power that mercy has in and through the life of the believer,

learn

 how to extend mercy to others, even in circumstances where it feels difficult or un-deserved, and

experience

 the freedom and purpose that come from multiplying mercy in a world that desperately needs it.
The mercy God has shown us through Jesus is meant to flow through us to the rest of the world as a powerful witness to God's love and forgiveness. Looking at where that mercy comes from and what it looks like in our lives will help us understand what mercy is and the difference it can make. It will allow God to create in us a heart of mercy.
Create in Me a Heart of Mercy is now available — order your copy today! And learn more about the other Create in Me a Heart of… Bible studies!