"What's so wrong about being colorblind? Why can't we just focus on each other's hearts?"
I was on the phone with a dear friend and fellow parent — a sweet, kind, loving sister in Christ — who was feeling utterly distraught about the issue of colorblindness. Her question was sincere. She wanted to raise Jesus-loving children who saw people's hearts and not just their skin color. "Isn't that the goal?" she wondered.
I sat with my friend's question for some time. Was it possible to see someone's heart without seeing their skin color? I wasn't too sure, but I understood the sentiment of wanting to focus on a person's inner qualities instead of  their external features.
People are shaped by their place in history, and even my friend's perspective had historical roots. She had been raised in the aftermath of the civil rights era, a time that heralded the idea of being colorblind as a new and healthier way forward for race relations. In fact, the term colorblind is borrowed right from the last part of Dr. King's speech where he says he wants people to see his children for the content of their character, not the color of their skin. A lot of well-meaning Christians, like my friend, ran with that term in the seventies and eighties, wanting to prove that they weren't using skin color as justification to treat people unequally, and they taught their children to hold a similar posture.
But now the pendulum has shifted. In 2022, Black and Brown folks are raising their voices and pleading for others to see the color of their skin, and a lot of Christian parents don't understand why. Why should we see color? Why should Christian parents talk about color with their kids? Is it biblical to make a big deal about skin tones and different cultural and racialized experiences?
What I've found in my own life as a second-generation, bicultural, Indian American woman is that one of the unintended consequences for well-meaning folks who strive to be colorblind is that they become blind to my lived experiences as an ethnic minority. In an attempt to treat us all the same vis-à-vis not seeing Black, Brown, or white, people's racialized experiences of everything from profiling, micro aggressions, racism, police brutality, and more get swept under the rug. It's easy for folks who say "I don't see color" to also not see the laws, policies, and zoning that create gaps in education and wealth equality along racial lines. In other words, when I say, "See the color of my skin," what I'm asking you to see is my racialized experiences of suffering and pain.
Undoubtedly, I am more than my flesh, but I am not less than my skin color. God created me on purpose as a brown-skinned woman, and my cultural identity reflects God's image in the world. Moreover, I operate in a brown-skinned body every day, and people treat me as a brown-skinned person. So, if you want to understand my heart, my story, and all of who I am, you have to see the totality of my life's experiences.
The thing is, when we believe that colorblindness is the way and teach our children to be colorblind, we miss out on a fundamental part of who God is. God is El Roi, the God who sees (Genesis 16:13). God sees all of us — our skin color, our culture, our pains, our joys. If we want our children to see people like God does, we must see in color. God designed us to be "color-blessed," in the words of Pastor Derwin Gray. To see the world in color is a blessing. God created us diverse on purpose. Each of us, in our unique and vibrant hues, reflects the image of God in the world. We get to acknowledge each other's color as part of how we celebrate the beautiful God-given uniqueness of each individual. In other words, seeing color is the portal into people's lived realities. Seeing color is the portal into their hearts. When we see color, we begin to recognize the full humanity in each other, and how glorious it is!
Seeing someone's heart and seeing the color of their skin isn't an either/or but a both/and.
Perhaps this wasn't what you were taught growing up. Perhaps this feels totally new and uncomfortable. I want to assure you that that's okay. This is an invitation for all of us to become race-wise as followers of Jesus and to lean into a more Spirit-led understanding of skin color and race-related issues that resonates with God's heart for all His image bearers. Being race-wise, for us as individuals and as families, simply means bringing issues like the question of being colorblind before the Lord and asking for His help to move forward in wisdom, clarity, and love. So, let's keep striving to get to know each other fully, especially our friends, neighbors, and coworkers of other cultures. Let's teach our children to see each other's hearts, to celebrate the full humanity of one another, and let's use gospel-centered, race-wise lenses to do so.
—
The Race-Wise Family: Ten Postures to Becoming Households of Healing and Hope is a timely resource by Helen Lee and (in)courage contributor Michelle Ami Reyes. It will equip Christian parents to better understand the roots of racism and provide practical guidance on addressing issues of race within their families. Practical and engaging, The Race-Wise Family offers immediately applicable action steps to help you raise kingdom-minded kids who will stand against racial injustice as an outpouring of their relationship with God. Deeply rooted in Scripture, the book includes:
• key biblical insights for understanding a theology of race
• discussion questions, prayers, and conversation starters for your whole family
• age-appropriate ideas for discussing current events with your kids and teens
• guidance for addressing the roots of racial bias in the world and your own heart
• activities and resources you can use with kids of all ages to be part of hope and healing in your community
The Race-Wise Family will help you and your kids celebrate the diversity of God's kingdom as you take small steps that will make a difference in the world for generations. Enter to WIN one of five copies today! Just leave a comment today with what this book could mean to you!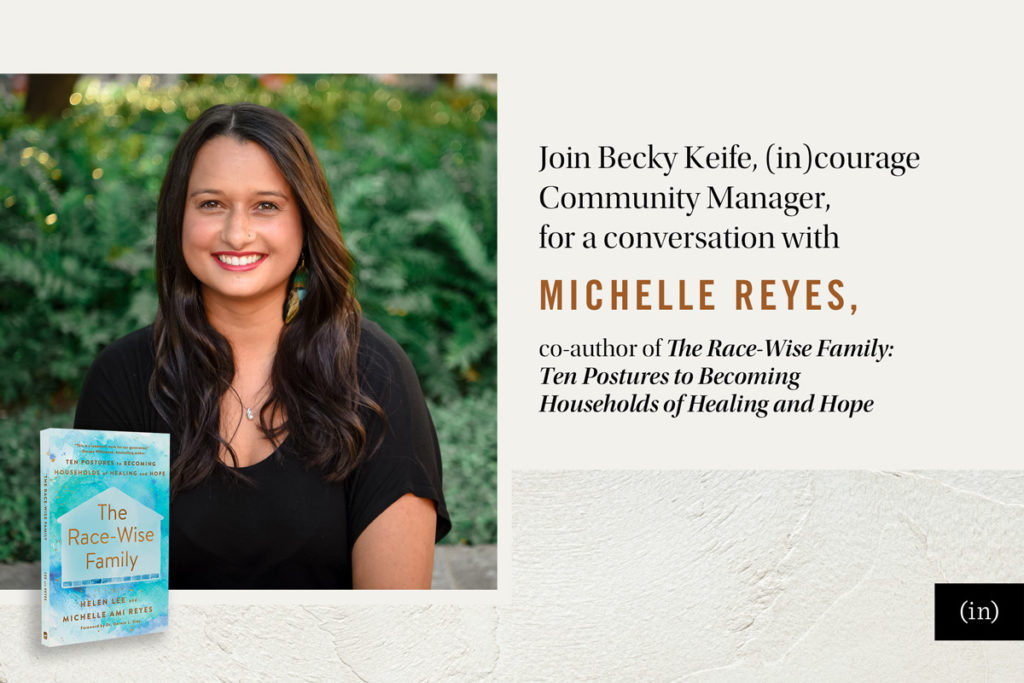 Then join Michelle and (in)courage community manager Becky Keife for a discussion all about The Race-Wise Family! Tune in tomorrow, 5/18/22, on our Facebook page at 11am CST for their conversation.
Giveaway open to US addresses only and closes on 5/20/22 at 11:59pm CST.
Listen to today's article below or stream on your favorite podcast player!
Leave a Comment