It's been a month since I saw my own reflection. I haven't looked in a mirror since March 5, and I won't look at myself again until Easter morning.
I don't look at myself when I brush my teeth, or when I blow-dry my hair. I don't take that one final peek before stepping out the door to go to church or a speaking engagement. I bravely (or perhaps, ridiculously) wield a mascara wand without the help of a mirror.
The whole experiment has been a huge lesson in trust. With these four words— "How do I look?"— I am daily entrusting my physical appearance to two small humans and a guy who raises pigs for a living.
But I gave up mirrors anyway. I gave them up, because I was tired.
I was tired of the self-degradation that we engage in as women. I was tired of how we women judge ourselves by the externals, even though God tells us He favors the heart.
And I was tired of all the ways that we women tell ourselves that we're not enough—or let our bathroom scales tell us that we're too much.
So I covered my mirrors with words that tell me how I am loved, cherished, chosen and "preapproved" by God.
The day after I covered my mirrors, my youngest daughter, age nine, asked if she could cover hers, too. Because she didn't want me to take this Easter journey alone.
Every morning, my daughter and I read these tangible reminders of who we are, in Christ. When we are focused less on the self, we reflect more on the Savior. Together we are saying, "fewer mirrors, more Messiah."
This is our battle cry: "We've had enough of the not-enoughs."
Over the last few weeks, hundreds of women have been joining us in that battle cry. (OK, so most of them aren't giving up mirrors. Because they have what's commonly referred to as COMMON SENSE.)
But they are every bit as committed as my daughter and me. Each of those women is telling herself that she is "preapproved" and loved by God.
And you can, too.
Here's how:
Tack and tape reminders to your mirrors, bathroom scales, refrigerators, cubicle walls and computers—so that you'll remember you have nothing to prove.
Because In Christ, you are already approved. You are preapproved.
The truth is, everybody in life wants to know that she's loved.
The truth is, we already are. 
But our hearts need reminders, like this:
We need to know that we are preapproved, in all those places where we feel "less than."
Even before God made the world, He chose us. We really are preapproved. He loved us before we stepped one foot on the planet. Before God created Mount Everest, the Great Barrier Reef, or Niagara Falls — before He even sent the globe spinning on its axis — He decided to love us, in Christ. We are preapproved.
So, the question is: Are you ready to believe it?
Join a movement of women, declaring their preapproved status in Christ. Tack reminders anywhere that you feel like you're "not enough" in life.
We are with you. We are cheering you on. Together, we can say it out loud to ourselves, and out loud to the world:
We've had enough of the not-enoughs!
Find the Preapproved Printables here and here.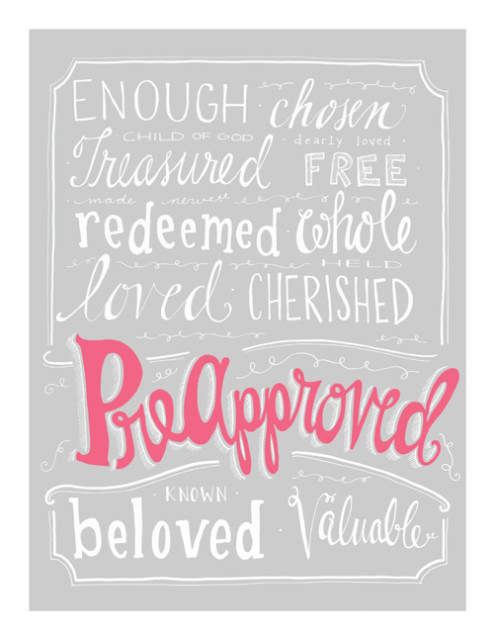 {Printables created by Annie Barnett of Be Small Studios. Book Photo by Caryn Christensen.}
Leave a Comment