The stores are stuffed with the newest holiday bling and hottest must-have toys.
They are decked in red and green, twinkling, Christmas.
But it doesn't feel like Christmas to me.
My holiday decor is minimal this year: a tree, a wreath, a nativity and three toys for each of my kids.
I broke down in the Christmas aisle in the middle of WalMart the other day. I was standing surrounded by bright toys, row after row of excess. I realized that all the stuff we cram into the holiday season isn't Christmas [the celebration of Christ's birth]. It's the American dream in red and green. It's the same, only packaged in holiday colors.
I've spent the last nine months redefining normal. I've had questions from many that all sound the same, "Are you over Africa yet?"
What is the answer to something you never want to get over?
It doesn't feel like Christmas this year.
But that's okay. I don't need another season. I don't need another party to attend or gift to receive.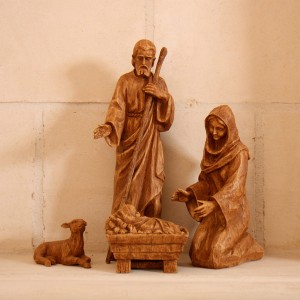 I need Jesus.
I need the simplicity of a manger.
I need the rawness of dirty hay and a primitive birth.
I need to remember the Holy Child in all His glory. I need to commune with the King of Kings.
It may not feel like Christmas.
But maybe it's not supposed to.
It's easy to lose Him in the holidays. How do you keep it simple and keep the focus on Jesus?
By Kristen, We are THAT family
Leave a Comment